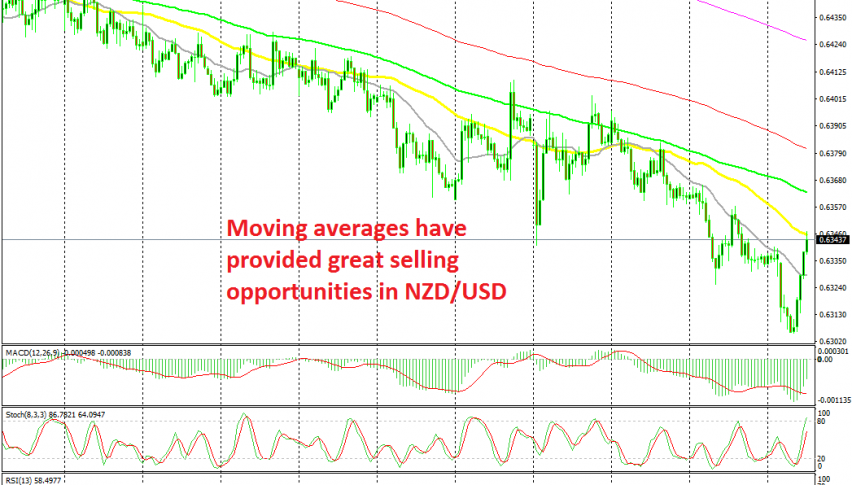 Keep Selling the Pullbacks in Commodity Dollars Until the Trend Changes
During the last several weeks we have been selling AUD/USD and NZD/USD. These two pairs have been on a very consistent bearish trend since the last week of July, which has provided many selling opportunities for US. We have waited for these two pairs to retrace higher and then we have sold the retraces.
Yesterday was the last occasion when we opened a sell signal in NZD/USD after the previous signal closed in profit in AUD/USD. Today, we just opened two sells signals, one in each pair. Yesterday we sold NZD/USD at the 20 SMA (grey) as it was retracing higher on the H1 chart.
We waited until this pair reached the 50 SMA (yellow) today, where we took our shot at this pair. The price has pulled back somewhat off the 50 SMA, so it is providing resistance already. Fundamentals are also on our side after the horrible figures from Australia and New Zealand early this morning which sent both pairs lower before the pullback higher in the European session.
Although, the risk sentiment has improved a bit which is helping risk currencies and pushing USD/JPY higher. But I reckon it won't last long before the sentiment turns negative again as it has done so many times in the last month. So, we're now waiting for the bearish trend to resume in these two pairs.