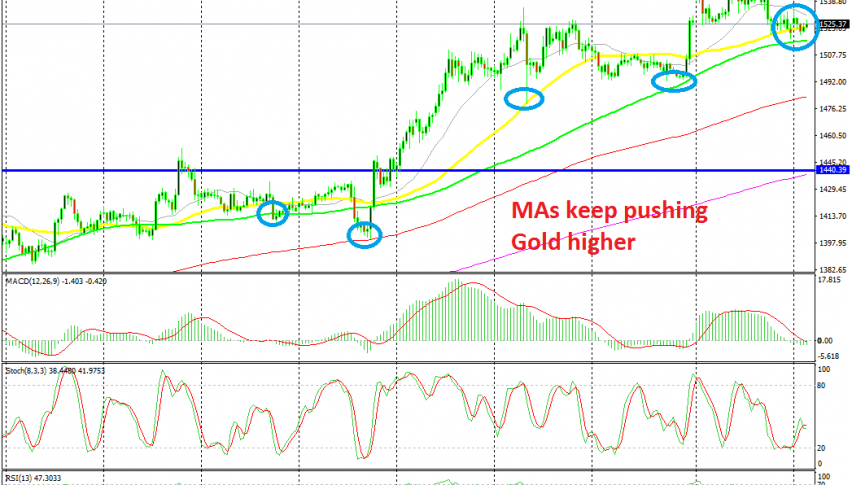 MAs Continue to Keep Gold Bullish
Safe havens have been bullish for several months now as markets sentiment continues to be negative in financial markets. As a result, GOLD has made considerable gains, especially during August when it broke the long term resistance level at $1,440 in the first day of that month, after US president Donald Trump announced extra tariffs on Chinese products.
Moving averages have also helped during this time, providing support for Gold on pullbacks lower. Gold found support at the 50 SMA (yellow) first three weeks ago, then in the following week when it got broken the 100 SMA (green) took its place.
Gold pushed to $1,555 on Monday last week as the sentiment kept deteriorating but traded sideways during the first half of the week. In the second half, we saw a pullback, but the 50 SMA came to the rescue again by the end of the week. The 50 SMA was eventually broken but the 100 SMA is still holding on.
So, Gold remains pretty bullish as long as moving averages hold, despite the decline in the JPY and the CHF recently. We will consider a trend reversal or a decent retrace only when these moving averages get broken. For now, buying pullbacks against the MAs is the way to trade Gold. I will wait for the price to touch the 100 SMA and then look to buy if we get a reversing signal on the H4 chart.