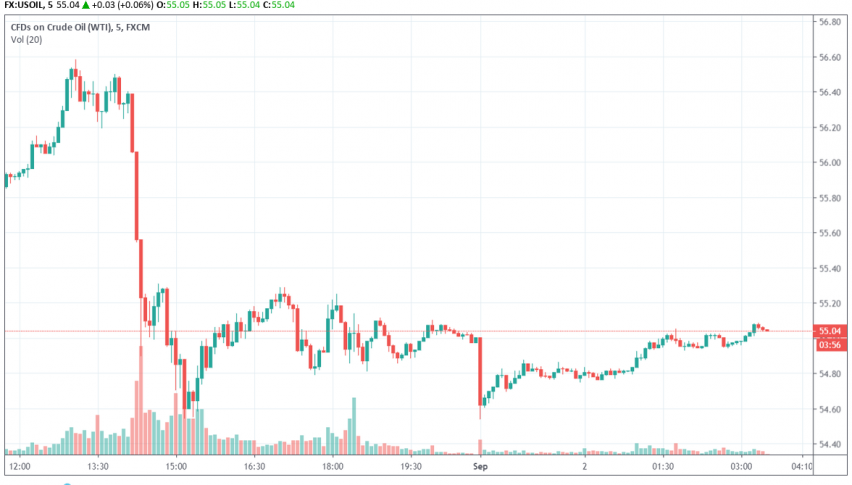 WTI Crude Oil Slips After New Tariffs Come Into Effect, China Imposes Duties on US Crude
Posted Monday, September 2, 2019 by
Arslan Butt
• 1 min read
At the start of a new trading week, WTI crude oil prices have slipped lower as the new tariffs on Chinese imports were implemented. At the time of writing, WTI crude oil is trading at around $55.04 per barrel.
The US started imposing tariffs to the tune of 15% on Chinese imports such as footwear, smartwatches, flat-panel TVs and more from September 1. In retaliation, China announced fresh duties on US crude as the trade war continued to escalate. China imposed a 5% levy on US crude imports, the first time that oil has been affected in the trade war.
Trump took to Twitter to justify the latest tariff hikes on Chinese goods, tweeting that he wants the US to reduce its dependence on China. He also urged American companies to consider looking for alternative locations outside of China to move their operations to.
Crude oil is also under pressure by latest reports that reveal that OPEC's oil output climbed higher in August due to increase in oil supply from Iraq and Nigeria. Even as the trade war sentiment looms on oil markets, the fallout of the trade war on other economies is also impacting oil's demand. One such instance is in the case of South Korean exports, which have fallen for the ninth straight month as China's demand falls in the wake of the trade war.