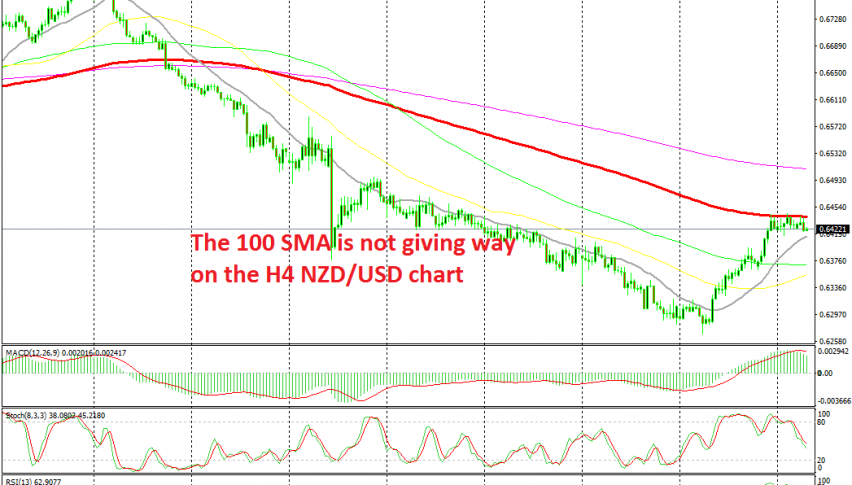 Is the Pullback Over for NZD/USD at the 100 SMA?
NZD/USD has been on a straightforward bearish trend since the end of July. The trade was escalated back then and the sentiment deteriorated for risk currencies. As a result, commodity dollars kept sliding lower. During that move lower, it was the 20 SMA (grey) which was defining the trend.
But last week we saw a swift reversal in the market sentiment as China and the US softened their tones. As a result, the risk sentiment improved and risk assets such as commodity dollars and stock markets turned bullish. They made some considerable gains with NZD/USD climbing around 170 pips.
But, the buyers ran into the 100 SMA (red) on Friday and they haven't been able to push the price above it since then. This moving average has provided solid resistance and it has rejected the price three times. Today the price formed a small upside-down pin candlestick which is a reversing signal, followed by a bearish one. now it seems like the price is reversing down, with stochastic heading that way.
Could this be the end of the bullish move? Probably, which would make for a good selling opportunity in NZD/USD, with a stop above the 100 SMA. Although, it remains to be seen whether the 20 SMA gets broken, because it used to be a strong resistance indicator and now it might turn into support.
The USD is looking softer today after the unemployment claims showed a jump to the highest since October 2021 last week
1 day ago