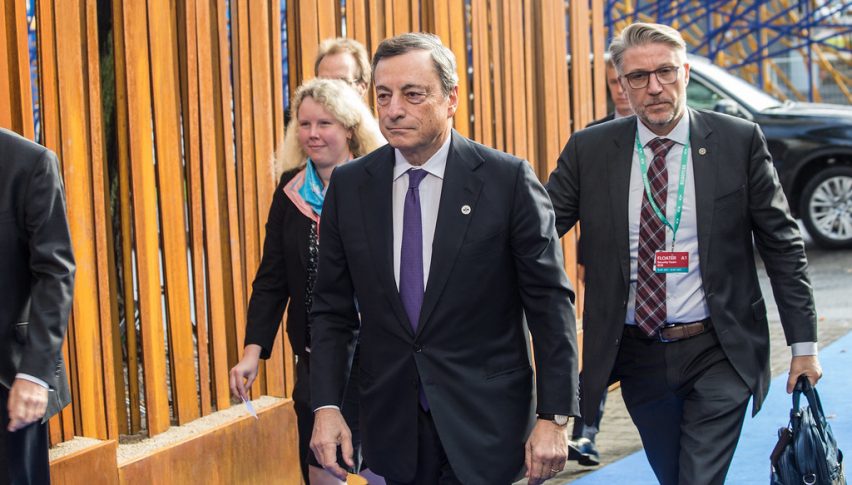 Forex Signals US Session Brief, Sep 13 – Markets Continue to be Skeptical of the ECB and the ECB Knows it
Today markets are following the sentiment we saw yesterday, following the ECB decision to reintroduce another monetary stimulus package. They cut deposit rates by 10 bps to -0.50%, while announcing a new QE programme, buying 20 billion Euros worth of bonds a month. The Euro lost more than 100 pips on that decision, but then reversed up from the previous support at 1.0920s, and now it's nearly 200 pips off the lows.
Traders were hopping for stronger action by the ECB, such as setting the date for another rate cut and having a larger bond buying programme. So, their skepticism is showing in the Euro as it continues to climb higher. The ECB knows markets are skeptical, so certain members such as ECB's Vasle commented today that the ECB could increase volumes and change conditions for bond purchases, if things don't go well in the coming months. The ECB and the EU are urging governments today to take action by starting fiscal stimulus, so they are far from confident that yesterday's actions will tackle the economic weakness in the Eurozone.
The GBP is also surging again today. It is now likely that the Brexit deadline might be extended further after the UK parliament turned the extension and the no no-deal Brexit scenario into a low. GBP/USD has bounced around 200 pips higher in the last two days and it still seems pretty bullish. Although, we're still where we used to be when Theresa May was Prime Minister – UK politics in a total mess and no sign of a deal anywhere around.
The European Session
ECB's Vasle Suggest More Action from the ECB If Necessary – The ECB governing council member Bostjan Vasle of Slovenia commented earlier on the ECB actions. He said that the ECB expects low growth of economic activity to continue in the coming months. We could increase volumes and change conditions for bond purchases. Ready to step up use of monetary policy tools, could introduce new ones if necessary. New actions are aimed to allow interest rates to be determined in relation to inflation. Not just looking to influence short-term rates but longer-term rates as well.
China Playing Along to Ease trade Tensions – The Chinese state media Xinhua reported this morning on the latest developments. Apparently China has agreed to add soybeans, pork to tariffs exemption list. It implies support for companies purchasing US soybeans and pork. This is another positive event for the sentiment in financial markets.
EU Pledges for Fiscal Help – EU's Dombrovskis said earlier today that monetary policy alone will not do the trick. Countries that have space for fiscal stimulus should stimulate economy. Countries that don't have space for fiscal stimulus should otherwise engage in structural reforms.
ECB Pledges for Fiscal Help – ECB's Coeure also chipped in soon after, repeating the same message as Draghi yesterday. He said that governments with fiscal space should act. There is a very strong view in the ECB that fiscal policy must take charge. Fiscal policy and structural reforms are needed to get full benefits from ECB policy. Underlying Euro area inflation is muted. Risks to economic growth remain tilted to the downside.
Brexit Talk – Boris Johnson is scheduled to meet with Juncker for Brexit talks next Monday. EU's trade Commissioner Phil Hogan said a bit later that recent events in UK parliament have improved the likelihood of Brexit extension. Onus is on the UK to find a workable solution to the Irish border.
The US Session
Ireland's Vadarkar Not Sure Johnson Can Get a Deal – The Irish PM says that he is not sure Johnson will be able to make compromises necessary to get a deal. He wants a deal but that's different from saying he can get a deal through parliament.
US Retail Sales Report – The retail sales report was released a while ago. Headline sales increased by 0.4% in August, beating expectations of 0.2%. Although, core sales missed expectations of 0.1% and came in flat at 0.0% for last month. July headline sales were revised a tick higher to 0.8% from 0.7% previously. Sales in the control group came in as expected at 0.3%. A slight miss in core sales, but headline figures are stronger, including last month's revisions. The USD is slightly higher now.
US Prelim UoM Consumer Sentiment – The consumer sentiment has been weakening in the US, despite retail sales being positive. UoM consumer sentiment indicator declined from around 98 points in July to 92.1 points last month in the initial reading. Although that was revised lower in the next reading to 89.8 points, expectations today are for a slight increase to 90.4 points.
Trades in Sight
The trend is still bullish on the H1 chart
The pullback lower is complete
The 50 SMA provided support again today
The previous candlesticks points higher
The 50 SMA is providing support on the H1 chart again today for USD/JPY
USD/JPY has turned quite bullish in the last couple of weeks, as the sentiment in financial markets continues to improve. During this time, the 20 SMA (grey) and the 50 SMA (yellow) have been providing support on pullbacks lower. Today we saw another decent pullback just like yesterday. The 20 SMA gave way easily today, but the 50 SMA seems to be doing its job correctly now. Just like yesterday, we decided to go long on this pair at the 50 SMA after the price formed a few doji/pin candlesticks which point up. Stochastic is also oversold and reversing higher now, so the pullback is complete.
In Conclusion
The Euro continues to be bullish today, as well as the GBP. Yesterday's price action is continuing into today, the risk sentiment is still slightly on, and the Aussie keeps making new highs. Although, the Kiwi is lagging after the manufacturing indicator showed that this sector remains in contraction in New Zealand.