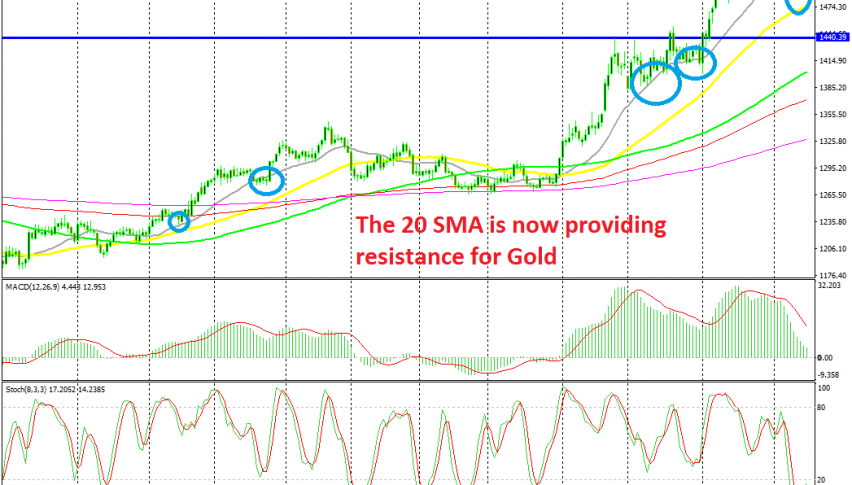 The Trend IS Officially Under Threat in Gold as the 20 SMA Turns From Support Into Resistance
GOLD has been on a bearish trend for more than a year, but the trend picked up extraordinary pace since the end of May. The price surged from $1,280 to $1,557 on my platform, as safe havens attracted strong bids on a deteriorating market sentiment due to the escalation of the trade war.
During this time, the 20 SMA (grey) has been providing support for this pair and pushed the price higher on the daily chart, which is the case when the trend is really strong. But, the sentiment has improved considerably in the last two weeks and Gold has turned bearish, together with other safe haven assets such as the JPY.
Gold broke below the 20 SMA (grey) last week, after the big bearish candlestick on Thursday. The price was heading for the 50 SMA (yellow), but then we saw a reversal higher by the middle of last week. Although, the 20 SMA turned into resistance now. The price formed a doji candlestick on Thursday after failing to break above the 20 SMA, which is a reversing signal, and Friday's candlestick closed bearish.
The failure to move above the 20 SMA again and the bearish reversing chart setup on the daily time-frame tell us that buyers have lost their strength and the larger bullish trend is in danger now. Although, the 50 SMA will be the deciding indicator; if that moving average breaks, then it will open the door for further declines, if it holds and a bullish reversal pattern forms above it, then we might go long from there, since the pullback is complete on this time-frame.
Gold did have an opportunity to turn bullish today after the attack on Saudi Arabia Oil production facilities, but after the small bullish gap, the move has been pretty anemic. This reinforces the idea that the appeal for safe havens might be diminishing. So, if Gold can't go up on such events, it will likely go down, that's the saying in forex.