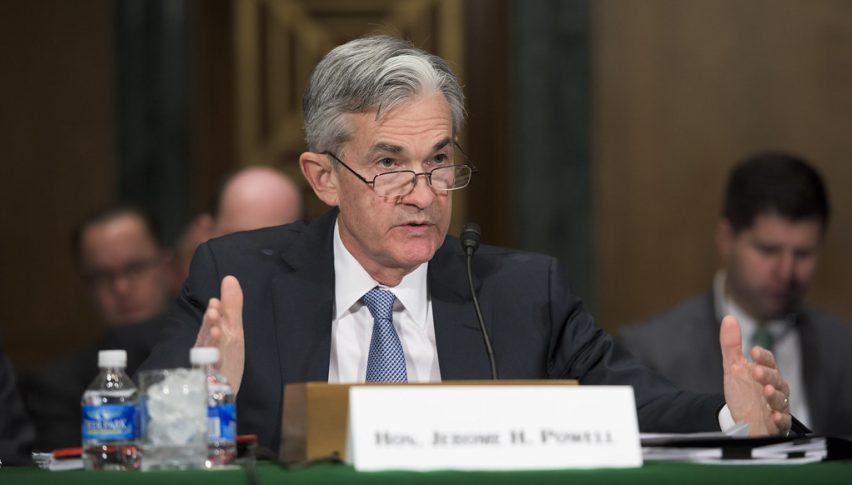 Forex Signals US Session Brief, Sep 18 – Forex market has Frozen, Awaiting the FED Meeting
Posted Wednesday, September 18, 2019 by
Skerdian Meta
• 4 min read
Financial markets have been quite volatile in recent months, with several fundamental issues driving them like crazy. These issues are well known now, such as the trade war, a weakening global economy, geopolitical tensions, Brexit etc. Although, the volatility has diminished this week and it continues to decline, which is making markets look like frozen today. The reason for the declining volatility has been the upcoming FED meeting which everyone has been waiting for and which will take place later this evening.
The FED cut interest rates by 25 basis points (bps) in the last meeting and markets have priced in another such rate cut today, which will bring interest rates down to 2.00%. That's all priced in, so there won't be any damage to the USD from that, apart from the initial knee-jerk reaction. But, the press conference and the statement will hold all the interest from traders. Is this going to be the last cut from the FED, or is the FED going to turn increasingly dovish like the many other major central banks, especially the ECB. These are the dilemmas as we head into the FED meeting this evening, but traders will have more attention on the FED dot plot to see their interest rate projection for the coming year.
The European Session
ECB's De Guindos trying to Persuade European Governments – The ECB vice president, Luis de Guindos commented early this morning. According to him, the monetary policy cannot be the only tool to revive the economy. Economic risks are tilted to the downside, core inflation in the euro area is still muted and Q4 growth may be similar to what we're seeing in Q3. Fiscal and monetary policy should be coordinated and Countries with fiscal space must be expansive.
UK CPI Inflation – The inflation report from the UK was released this morning. Headline CPI declined to 1.7% YoY in August from 2.1% in July, against 1.8% expected. Core CPI also missed expectation of 1.8%and instead declined to 1.5% from 1.9% in July. Core CPI also missed expectation of 1.8%and instead declined to 1.5% from 1.9% in July. August CPI MoM came at 0.4% against 0.5% expected.
UK PPI and HPI Inflation – The PPI (producer price index) figures were released together with the CPI report. PPI output MoM came in negative at -0.1% against 0.2% expected. PPI output YoY moved lower to 1.6% 2.0% expected. PPI input MoM came at -0.1% against -0.2% expected. PPI input YoY fell considerably, coming at -0.8% vs -0.1% expected. July HPI ticked higher to 0.7% YoY against 0.6% expected but that  reading is the weakest since September 2012.
Eurozone CPI Inflation Final Reading – The final Eurozone inflation report for August was released 30 minutes after the UK inflation report. Headline CPI YoY remained unchanged at 1.0% and Core CPI also remained unchanged at 0.9% YoY as in the initial reading for last month. CPI MoM came softer at 0.1% against 0.2% expected.
Eurozone Construction Report – The Eurozone July construction output MoM posted a big miss, coming at -0.7% vs 0.0% prior. Although, the previous number for June was revised to +0.6% from 0.0% in the initial reading. Construction output came at 1.1% YoY. the previous number was revised higher from 1.0% to 1.6%. So, the construction output for July came in below expectations, but the previous month was revised higher, which takes balances the picture out somewhat.
The US Session
Canadian CPI Inflation – The inflation report from Canada was released a while ago and CPI turned negative in August, declining by 0.1%, but that's better than the -0.2% expected. Core CPI also declined by 0.1% MoM in August. Headline CPI YoY ticked lower to 1.9% as expected, down from 2n.0% YoY. Median CPI remained unchanged at 2.1% against 2.1% expected. Common CPI ticked lower to 1.8% from 1.9% previously. Trimmed mean CPI ticked higher to 2.1% from 2.0% prior. Services inflation came at +0.1% MoM, while goods services came at -0.6%.
US Building Permissions and Housing Starts – Building permits have been holding steady in the 1.30 million region for several months. Last month's number was revised lower to 1.32M from 1.34M previously. Today's report which was for August was expected to remain at that range at 1.31M. But it beat expectations coming at 1.42M. Housing starts also increased in August, coming at 1.36M against 1.25M expected. The previous number was revised higher as well from 1.19M to 1.22M.
FE Meeting – The FED meeting will take place at 18:00 GMT. They are expected to cut interest rates to 2.00%, but the statement and the dot plot will be the interesting part, as well as the press conference from Jerome Powell which will take place 30 minutes later.
Trades in Sight
The trend has turned bearish on the H4 chart
MAs keep pushing the price lower
Fundamentals point down
EUR/GBP has turned pretty bearish
EUR/GBP has been pretty bearish since it reversed down in the second week of August. This pair has lost around 500 pips from top to bottom during this time and there's no sign of it turning bullish anytime soon. Fundamentals point down as the ECB turned increasingly dovish in the last meeting and is urging Eurozone governments to increase fiscal spending, while Brexit seems to be on course for another extension. Moving averages are also doing a good job pushing the price down, so we have a bearish bias for this pair.
In Conclusion
Financial markets have been really quiet today and I expect them to continue doing so until before the FED meeting when we might see some last-minute position adjustment. The FED is expected to cut rates for the second time in a row today, but that won't do much harm to the USD, so we will follow the dot plot and the press conference.