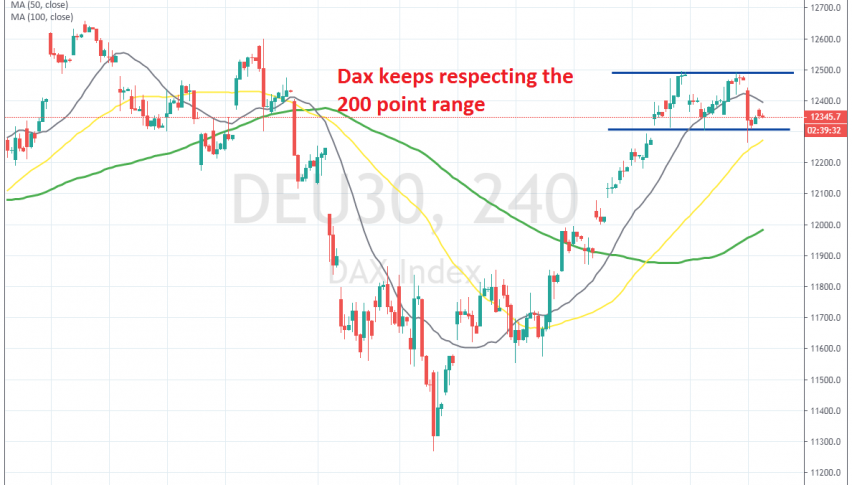 Dax Continues Last Week's Range Trading Despite Breaking Below 20 SMA
Stock markets turned quite bearish in August, as the trade war and the rhetoric escalated. As a result, the German index DAX 30 lost around 1,400 points. But come September and things reversed totally. The rhetoric between US and China softened and the sentiment improved in financial markets, which helped turn stock markets bullish.
Dax recuperated all losses from August, but it failed to make new highs. After all, the trade war is still ongoing and the global economy is heading towards stagnation or even recession. So, there are not many reasons to be bullish on stock markets apart form the fact that major central banks have turned dovish again now and are pumping money into the financial system, which helps stock markets.
Anyway, last week was neutral for stock markets as they traded in a range mostly. Dax traded in a tight range between 1,300 and 1,500. The 20 SMA (grey) was also providing support last week on the H4. That moving average was broken yesterday as Dax opened with a bearish gap lower and continued down, piercing the support briefly.
But, the price pulled back higher and Dax continues to trade inside the range. So, now the situation is uncertain for Dax and for stock markets as the sentiment flips from one side to the other, without any clear direction. Now we have to wait for markets to pick a side, so until then, expect Dax to trade sideways, which actually is not a bad price action to trade. Basically, buy at the bottom around 1,300 and sell at the top at 1,500.