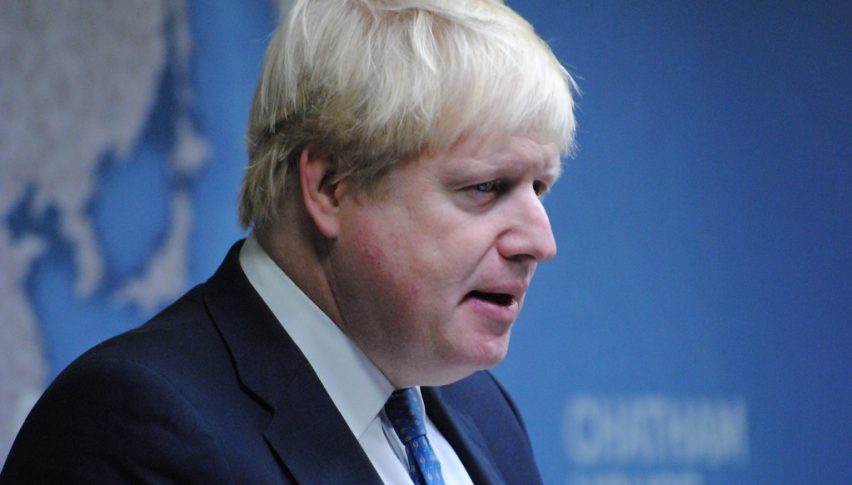 Forex Signals US Session Brief, Sep 24 – The GBP Moves Higher as BoJo Plan Takes Another Setback
The risk sentiment has been switching on and off in the last weeks or so, with markets uncertain about many major issues, such as the global economy, the future policy of major central banks, Brexit, trade war, and geopolitical tensions (Iran, Hong Kong etc). Although, the decision from China about excluding US soybeans from tariffs helped the sentiment, as shown from the climb in commodity Dollars. The USD continues the slow slide lower today, which has also helped AUD/USD and NZD/USD . The Aussie received some love as well, after comments from the RBA governor Lowe that the Australian economy would come to a turning point soon. Altghough, he left the door open for further rate cuts. 
Although, the attention of the markets has been mainly on the GBP today. Boris Johnson came in as the new Prime Minister of UK with clear ideas in his head, to leave the EU and pressure them to offer a better Brexit deal. But, the British Parliament voted to make it illegal to leave the EU without a deal. That improved the sentiment surrounding the GBP in the last few weeks. BoJo is trying to prorogue the Parliament, so the lawmakers don't have much time until October 31 which is the deadline for Brexit. But, the UK Supreme Court ruled today that prorogation of the Parliament was unlawful, which makes things even more difficult for Johnson. He commented that the UK will leave the EU on October 31, deal or no deal, but the GBP has turned bullish nonetheless.
The European Session
German Ifo Business Climate – The business climate has been deteriorating in Germany and last month it fell to 94.3 points. Although, German Ifo business climate improved slightly to 94.6 points from 94.3, beating expectations of 94.5 points. Yet, Ifo business expectations cooled off further to 90.8 points from 92 expected, down from 91.3 prior. Ifo current business assessment increased to 98.5 points against 96.9 expected. The previous number stood at 97.3 points prior, which was revised to 97.4. The deterioration of the sentiment has stopped this month. But, Ifo notes that expectations continue to weaken. Germany's Economy Minister Altmaier just popped up in Reuters, saying that the German economy is not in recession.
RBA's Low Comments – The RBA has turned quite dovish in recent months. But Lowe's comments today offered some optimism to AUD traders. He said that fundamental long-term factors for Australia's economy remain strong, challenge is to capitalize on them. There's a house price correction, slow rent growth, but the government is doing efforts to ease cost of living. Low wages growth is one of the factors contributing to weak inflation outcomes. US-China trade war, technology disputes the most prominent global risk. Risks to global economy tilted to the downside led by Geopolitical uncertainties. Seeking to understand the slowing in Australia's economy and the disparity between strong unemployment growth and weak output growth. Inflation to pick up, but remain below the 2-3% target range for some time to come. The RBA says that if we need to ignore these shifts our exchange rate would appreciate as the Australian economy reaches a 'gentle turning point'
Sturgeon Wants BoJo's Head – Scotland's First Minister Nicola Sturgeon commented earlier on this morning, called for PM Johnson to resign. But this doesn't come as a surprise, since she has been a strong and vocal adversary of Brexit.
Prorogation is Unlawful for the UK Supreme Court – The UK Supreme Court rules prorogation was 'unlawful' earlier today. President Hale says 'no justification with such an extreme effect has been heard by the court'. Prorogation is void and 'is deemed as null effect' . Speakers of Parliament are to decide what to do next. Court rules no step needed from Johnson. Johnson's lawyer has told court that he would comply with judgment.
The US Session
Boris Johnson to Respect UK Supreme Court Ruling – BoJo held a press conference after the Supreme Court ruling. He said that the Supreme Court ruling is not right but we will respect it. There is a good case for getting on with the Queen's speech. "As the law currently stands, the UK leaves the EU on Oct 31, come what may". We are going to get on and deliver Brexit on Oct 31. "Parliament has been debating Brexit for three years solidly now is the chance for us to get a deal, come out of the Eu on Oct 31 and that is what we are going to do". Of course parliament will come back. Getting a deal is not made much easier by this kind of stuff in parliament or the courts.
Philly FED Non-Manufacturing Index – The Philly Fed September non-manufacturing index increased by two points to 9.5, from 7.5 points in August. New orders also increased to 9.7 points from 9.4 prior. But wage and benefit cost index declined to 36.1 points from 43.2 prior, while full-time employment index 22.1 vs 22.1 prior.
CB Consumer Confidence – The Conference Board Consumer Confidence Index rebounded in July, following a decrease in June. It jumped to 135.7 points, up from 124.3 in June. The Index remained pretty strong in August as well and now stands at 135.1 points. After a sharp decline in June, driven by an escalation in trade and tariff tensions, Consumer Confidence rebounded in July to its highest level this year. Let's see if the ongoing trade war, geopolitical tensions, and global economic slowdown impact US consumer sentiment this month.
Trades in Sight
The trend is bullish on the H4 chart
The pullback down is complete
MAs are providing support again
USD/CAD continues to lean on MAs
USD/CAD has been bullish since the middle of July. During this time, moving averages were providing support on pullbacks, pushing the price higher. We saw a dive in the first week of September as sentiment improved in financial markets, helping risk assets such as the CAD, but the buyers returned and pushed the price above the moving averages. They provided support all week last week and it seems like they are doing the same this week. Stochastic is also oversold, which means that the retrace lower is complete. We are already long on this pair.
In Conclusion
The USD has been soft once again today, but nothing is certain at the moment. The sentiment improved a bit today, but it keeps flipping from one side to the other. The GBP has turned bullish on the decision from the UK Supreme Court to call the prorogation of the Parliament unlawful, but this currency still remains very uncertain.