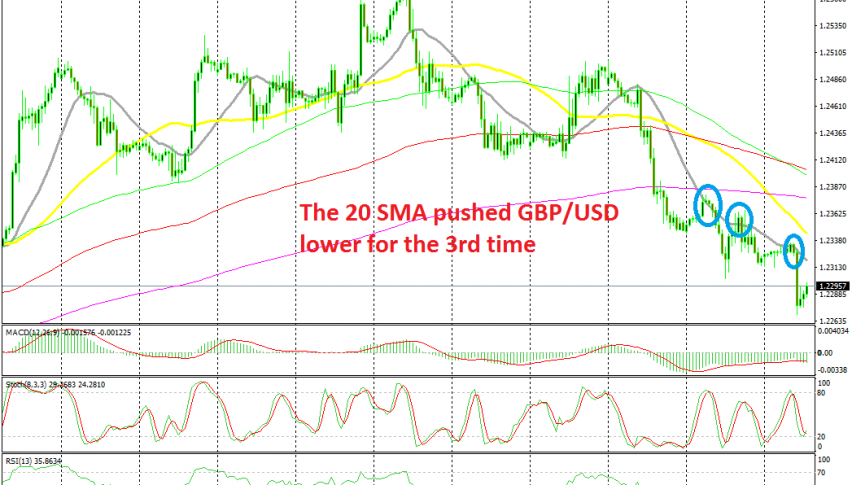 GBP/USD Makes the Next Bearish Move as Hawkish BOE Member Turns Into a Dove
GBP/USD has been pretty bullish this month. It came back from the dead as it reversed higher from below 1.20 at the beginning of September and climbed more than 600 pips during this period. But the price reversed back down by Friday last week and this week the price action has been quite bearish for this pair.
Yesterday, we opened a sell forex signal in this pair, as it was retracing higher and finding resistance on the 20 SMA (grey) on the H1 chart. This moving average had provided resistance earlier yesterday and the price was having second thoughts again in the afternoon when it retraced to the 20 SMA again.
Today we saw the same scenario earlier this morning. GBP/USD made a 60 pips decline when the 20 SMA caught up with the price on the H1 chart. But, the decline came after some dovish comments from the Bank of England member Saunders. The comments are below:
Rates could go either way after Brexit
Brexit uncertainties are a slow puncture for the UK economy
Deferring monetary policy changes until after Brexit could lead to inappropriate policy
BoE's next move could 'quite plausibly' be a cut even if no-deal Brexit is avoided
His last comment is what sent the GBP down. Saunders is a hawkish BOE member. But when a hawk makes dovish comments such as these, then the impact is bigger. So, this pair has turned bearish again today. The 20 SMA is slowly moving lower as well and we might go short when it catches up, so we will keep an eye on GBP/USD until then.