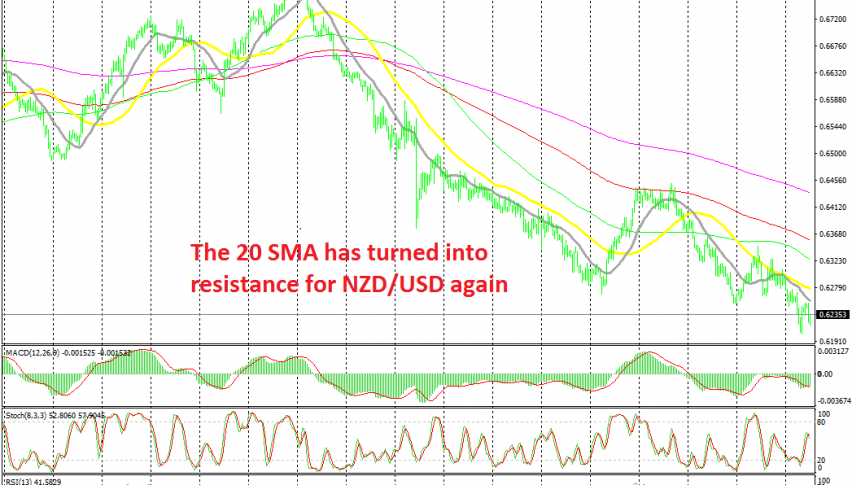 NZD/USD Will Remain Bearish as Long as MAs Keep Pushing it Down
Rick currencies have been on a downtrend against the USD for more than a year, although during June/July we saw them put up a fight and climb higher. But, by the middle of July, they made a bearish reversal as the trade war escalated further and the global economy resumed the slowdown.
The price pierced through all moving averages in NZD/USD without any resistance. It remained below all these moving averages until the first week of September, with the 20 SMA (grey) providing resistance most of the time during that bearish period, helped by the 50 SMA (yellow) as well, as you can see from the H4 chart above.
We saw a retrace higher in the first half of September, as the sentiment improved over softer tones from US and China, which helped risk currencies climb higher. But that wasn't bound to last long, since the trade war is still ongoing and the global economy keeps weakening.
The climb stopped right at the 100 SMA (red) on this time-frame and NZD/USD returned below the other moving averages. The 20 SMA turned into resistance once again two weeks ago while the downtrend was strong, but last week the 50 SMA took its place while the price was retracing higher.
This week, the bearish trend has resumed again, picking up pace, so the smaller MA has turned into resistance once again. Yesterday we saw another pullback higher after the really soft US ISM manufacturing PMI, but the 20 SMA stopped the climb and reversed the price down.
So, now the 20 SMA stands as the defining resistance indicator. This should be seen as a good place to sell NZD/USD during retraces higher, so we will try to open a sell signal if we see the price retrace up there.
The Reserve Bank of New Zealand raised interest rates yet again early today
5 days ago