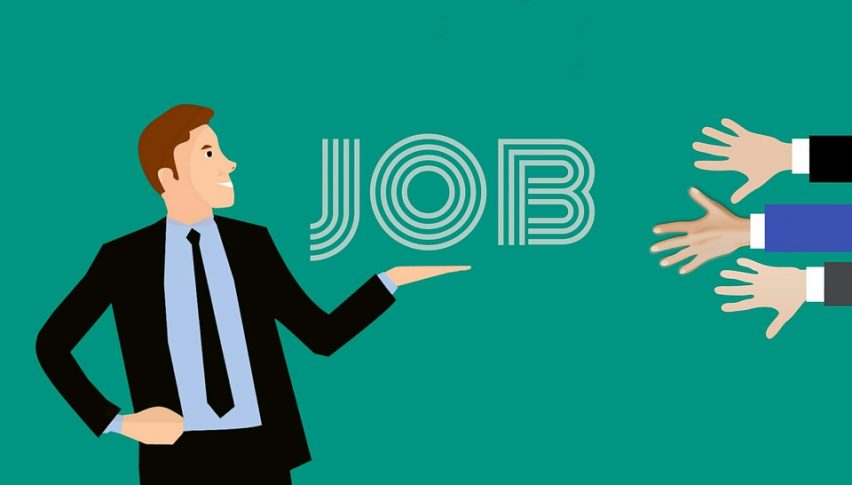 Forex Signals US Session Brief, Oct 4 – There's Still Hope for the USD After the Decline in US Unemployment Rate
The USD has turned pretty bearish this week. The ISM manufacturing report on Tuesday was expected to show this sector coming out of contraction in August, after it fell below 50 points in July. But, this indicator fell further, which increased fears that the manufacturing sector might be heading towards recession like in the Eurozone. Then, yesterday's ISM non-manufacturing PMI made a big decline and it got pretty close to stagnation. Non-manufacturing activity has been holding up pretty well in the US, despite global economic headwinds. But now it headed towards stagnation and traders rightfully turned even more bearish on the USD, implying that the US economy might head where the rest of the globe has been headed for more than a year.
So, the USD has been bearish all week and the situation seemed really bleak for the USD, as odds of the FED cutting interest rates again increased. But, the employment report today came in better than expected, with the unemployment rate declining by two points to 3.5%. Although, after two strong months for earnings, they fell flat in September as today's report showed. But, the decline in the unemployment rate was enough to stop the decline in the USD and send it 30 pips higher. But, the Buck is not out of trouble yet. Let's see if this week's trend will reverse next week.
The European Session
Hong Kong Officials Tightening the Grip – Hong Kong leader Lam commented on recent rioting, saying that this is an occasion of serious danger. 400 protesters so far with violence escalating, protests leading to concerns over city's future, the violence is escalating and more widespread over last week. Vandalism is now spreading from public buildings to shops, the percentage of students among those arrested rose to 38% in September. The government has invoked emergency powers, face masks will be banned under emergency powers and the ban will be effective from Saturday. He expects mask law to deter radical behavior. There will be exemptions from some people who need to wear masks. Honk Kong has entered an emergency.
German Construction Comes Back to Life in September – The economy has been weakening considerably in Germany this year and manufacturing and industrial activity has been in recession. Although, the construction sector posted some positive numbers for September. Construction PMI jumped to 50.1 points last months from 46.3 points in July, which means that this sector is back in expansion.
EU Leaves An Open End for A Brexit Deal – The European Commission commented via Reuters early today. They said that no deadline is set for reaching a Brexit deal with the UK, but realistically we will find out at a meeting of EU27 ministers in Luxembourg next Tuesday whether or not enough progress has been made for an agreement by EC summit.
Johnson's Spokeswoman Commenting on Brexit – The UK PM's spokeswoman was also commenting on Reuters today. She said that Northern Irish minister will meet Irish Foreign minister later on today. It's clear all sides want a Brexit deal, ready to talk at any point over the weekend. PM sees proposals as a broad landing zone in which a deal can take shape and will will publish the legal text and we have out it forward confidentially and we will consider publication.
The US Session
US Unemployment Rate – The employment report from the US has been released and the unemployment rate has lost two points, falling to 3.5% from 3.7% where it stood for a few months. Participation rate remained unchanged at 63.2% as expected, same as last month. The decline in the unemployment rate came as a surprise and the USD has reversed higher. U6 underemployment lost three points, declining to 6.9% from 7.2% prior.
US Non-Farm Employment Change – September non-farm payrolls came lower at 136K against 145K expected. Although, the previous non-farm payrolls which stood at 130K was revised higher to 168K, so employment is back on track.
US Average Earnings – The US average hourly earnings also came in lower at 0.0% MoM for August, down from 0.4% in July and against 0.3% expected. Average hourly earnings YoY declined too to 2.9% from 3.2% previously. This is not a good sign, but at least it comes after two strong month for earnings.
Trades in Sight
Bullish NZD/USD
The trend has turned bullish this week
Sentiment has improved for this pair
The 20 SMA is pushing the price higher
The 20 SMA provided support again today
NZD/USD has been bearish for a long time, but it turned bullish this week as the USD keeps declining. The sentiment for this pair has improved and the uptrend is quite strong, since the 20 SMA (grey) is providing support and pushing the price higher on the H1 chart. We lost the opportunity to go long on this pair when it retraced lower after the US employment report was released, because the reversal higher happened quite fast. But, we might go long when the next retrace lower to the 20 MSA comes.
In Conclusion
The situation for the USD improved a bit after the employment report was released  a while ago. The Buck made some gains but it doesn't seem like it is going to continue higher. Risk currencies such as AUD/USD and NZD/USD are back up, but at least the overall sentiment in markets has improved somewhat now.
GBP/USD failed to close above the resistance of 1.2450 last week and yesterday it resumed the decline as the USD gained momentum
2 months ago