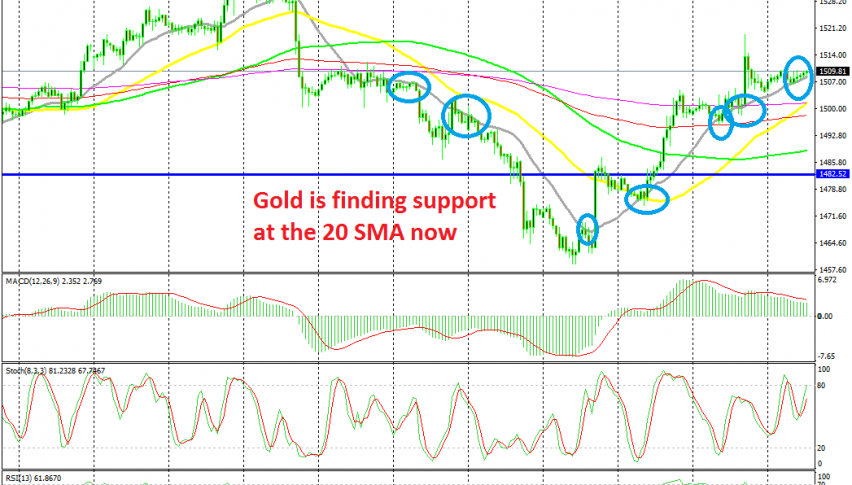 The Trend Reversal is Obvious in Gold as MAs Turn From Resistance Into Support
GOLD has been on a bullish trend since August last year. The trade war has hurt the sentiment in financial markets which helps safe havens and the global economy has weakened quite a lot, which also helps safe havens. As a result, Gold has been climbing and the moving averages have ben pushing it higher.
Looking back at the H1 chart, we see that the smaller moving averages such as the 20 SMA (grey) and the 50 SMA (yellow) were providing support when Gold was climbing higher. But in the last week of September, the trend changed and the same moving averages turned from resistance into support.
The downtrend continued until Tuesday this week when the US ISM manufacturing PMI report came out, showing that this sector fell into deeper contraction in September. That reversed the sentiment in financial markets and Gold turned bullish.
Then, yesterday's ISM non-manufacturing PMI which also came in pretty weak gave the USD another kick lower and Gold a push higher, so the trend has changed once again for Gold. The same moving averages which were providing resistance last week are now providing support.
The 50 SMA turned into support first on Tuesday and Wednesday morning, then the 20 SMA took things in its hands and this moving average has been pushing the p[rice higher since then. So, Gold is now bullish as long as MAs stay below and provide support. The sensible trade in such occasions would be to buy Gold against the 20 SMA.