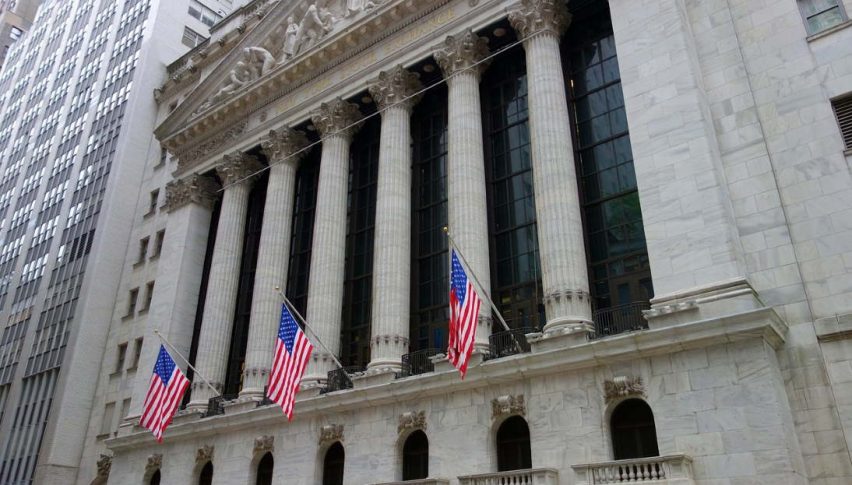 DOW Challenges Long-Term Support
Last week proved to be super-charged, full of political developments and volatility in the Dow Jones Industrial Average (DOW). Prices were all over the map, influenced by sub-par U.S economic data and constant breaking news from Capitol Hill. At this point, uncertainty continues to dominate market sentiment.
In last Saturday's weekend update, we delved into the impeachment process and where the markets may be headed in the near-term. Thus far, several market projections included in the piece are showing signs of being valid. Safe-havens have put on a show through early October, highlighted by a run to gold. There also has been no progress on the U.S./China or USMCA trade fronts, not to mention fresh tariff saber-rattling out of the E.U. For now, risk-off is becoming a preferred way forward for many investors.
From a practical standpoint, it is looking more and more like Trump will be impeached. Odds of the House of Representatives voting for impeachment now stand at 70% at Predictit.com, compared to 65% last Saturday. A Senatorial acquittal of Trump is still probable, holding an 80% chance of occurring. So, in the opinion of traders, an impeached POTUS will run for re-election in 2020. This has never happened in the history of the United States.
With U.S. politics heading into uncharted waters, it is anyone's guess how the DOW will fare over the next 12 months. For the time being, fractures in the 3-year long bull run are beginning to emerge.
 DOW Tests Weekly Support
Below is the weekly chart for the Dow Jones Industrial Average (DJIA) as of business close on  October 3rd. Values remain in bullish territory but are testing downside support. This is only the eighth time in 2019 that a five-day trading range has fallen beneath the Weekly SMA and Bollinger MP.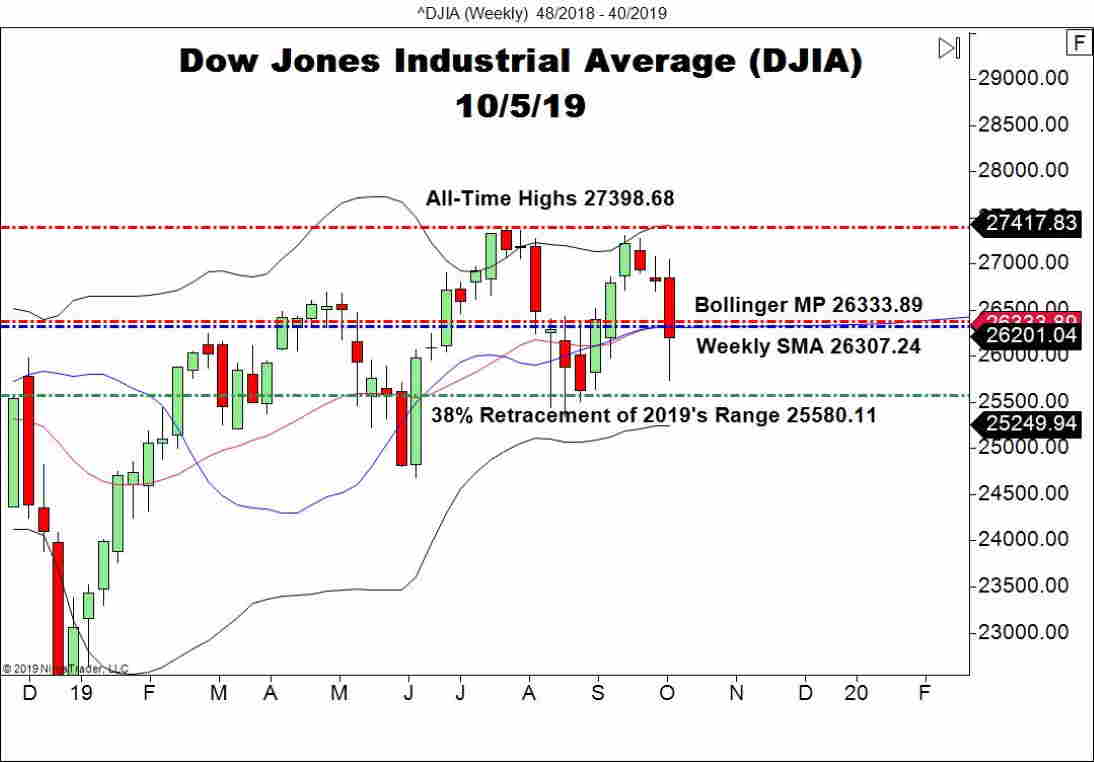 The key number to keep an eye on for the DOW is the 38% Retracement of 2019's Range (25580). This is an important technical area; as long as rates hold on north of its vicinity, the yearly bull market will remain intact. If we see prices fall beneath, then a broad-based correction may come on very quickly.
Overview
As we talked about earlier, the U.S. political system and financial markets are heading into unknown territory. However, no matter how impeachment pans out, there are a few things we do know:
Recent U.S. economic reports have underperformed expectations. This is an indication that business conditions may be cooling a bit.

International trade concerns persist. There is no immediate U.S./China agreement on the table, USMCA appears to be a ways off, and the E.U. is preparing to join the tariff battle.

The FED will most probably cut rates at least one more time by year's end. This is a key point moving forward, as cheap money may prop up the equities markets for some time.
If you add it all up, the DOW appears to be in a position to correct as 2020 approaches. Of course, we aren't there yet. A sudden breakthrough on international trade will spike participation and drive the DJIA to new heights. In addition, aggressive FED rate cuts and a Trump acquittal will likely do the same. 
Ultimately, only time will tell where U.S. equities are heading over the next 12-months. But, for now, the DOW is on thin ice and trading at a very important technical crossroads.