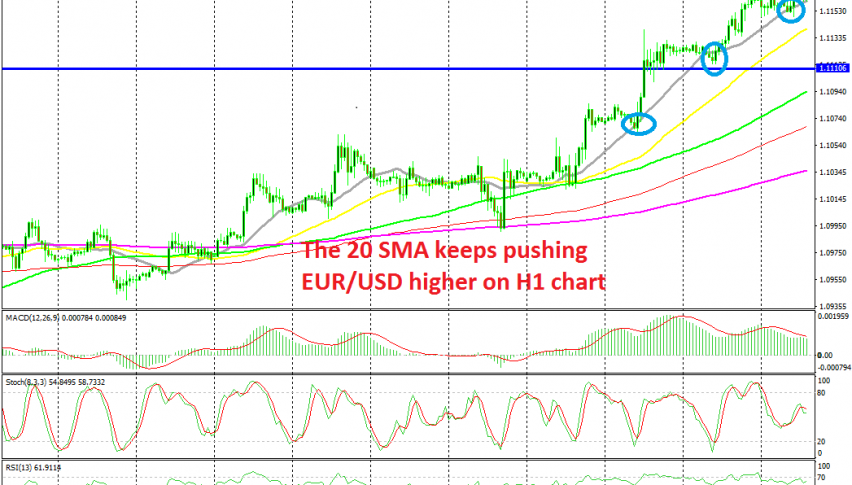 The Picture is Similar Across the Board as the USD Keeps Sliding Lower
The USD index has been bullish for a long time, but it turned bearish once September ended. Sellers were asleep during most of the summer, as the sentiment deteriorated on a worsening global economy. But they woke up when September ended, as the song goes.
The USD index turned bearish this month and it has been slipping lower non-stop. The recent weakness of the US economy has turned the FED quite dovish s a result. They have cut interest rates twice in the last two meetings and they might do so again this month.
AUD/USD bounced off the 20 SMA once again today
As a result, the USD has been pretty bearish. The Buck has been pulling back against most major currencies, so the picture seems similar in all charts. During the first half of last week, the price traded sideways, as EUR/USD chart at the top of this post shows, but the trend resumed in the second half and today we are seeing a spillover of that price action.
The 20 SMA provided support overnight for NZD/USD
EUR/USD has been climbing higher and it has been finding support at the 20 SMA (grey) on the H1 chart. The picture is pretty similar in AUD/USD and NZD/USD as well. GBP/USD has been finding support at the 50 SMA instead, but the picture is similar too.
So, the USD is falling across the board and that's what the market is trading right now. We will wait for a retrace in one of these pairs and then go long on them, short on the USD.