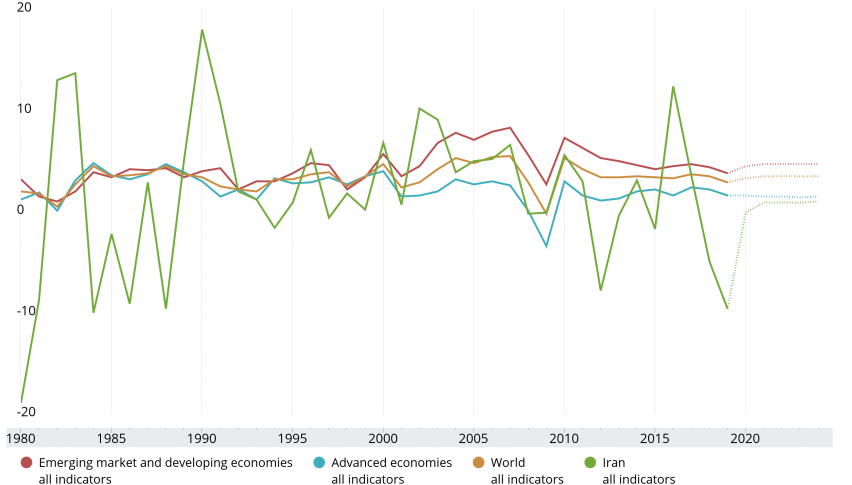 Iran's Economic Growth Forecasts Downgraded by IMF on Account of US Sanctions
Posted Monday, October 28, 2019 by
Arslan Butt
• 1 min read
Iran's budget deficit is expected to rise to 4.5% in 2019 and go even higher to 5.1% in 2020 as a result of the sanctions imposed on it by the US. According to IMF's latest estimates, Iran would only be able to balance its budget if crude oil prices soar to around $195 per barrel.
The oil-rich nation had seen its revenues from crude oil rise after the 2015 nuclear pact with six major nations which called for an end to previously imposed sanctions. However, after US President Donald Trump withdrew from this pact in 2018, he proceeded to impose more sanctions on Iran, including banning crude oil exports from Iran to other nations entirely.
As a result of these extremely severe sanctions, Iran's economy is expected to contract by 9.5% in 2019 according to the IMF, further lower than its previous estimate of a 6% contraction. Meanwhile, real growth in GDP is expected to come in flat during 2020.
Iran's inflation is expected to soar to 35.7% in 2019 and edge slightly lower to 31% in 2020. IMF also forecasts Iranian exports to decline to $60.3 billion in 2019 from $103.2 billion in 2018 as a result of these sanctions. Exports from Iran could decline even further to $55.5 billion next year.