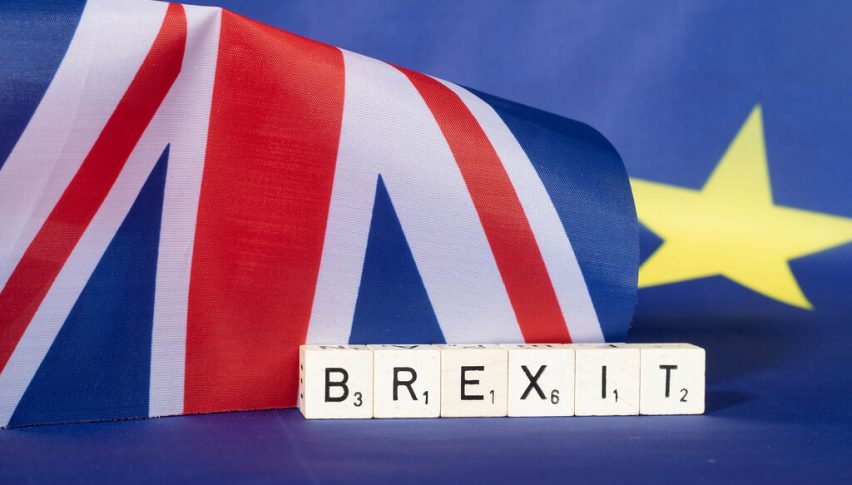 Forex Signals US Session Brief, Oct 29 – GBP Jumps on December Elections in the UK
The sentiment has been driving markets up and down this year. The sentiment in itself has been defined by the US-China trade war, as well as by Brexit events and that's the case today as well. Yesterday we heard UK Prime Minister Boris Johnson comment on new elections after the Brexit extension from the EU, but the opposition Labour Party wasn't too keen on it. But, they accepted the offer today and said that they will launch "the most ambitious and radical campaign for real change our country has ever seen".
The no-deal Brexit option has been taken off the table for Labour which was the main request from them, although that, not completely true. Elections will be held in December, but the date is not clear yet. The GBP jumped higher on these comments and it will likely remain bullish as we approach elections. The reasoning behind this is that Johnson's odds of winning the elections and having a clear majority in the Parliament are high, which take out some of the uncertainty of changing leaderships and increases odds of the Brexit deal passing through. The sentiment has improved somewhat as well, with Gold continuing to slip lower.
The European Session
RBA's Lowe Hints at Pause in Rate Cuts Next Week – Reserve Bank of Australia Philip Lowe held a speech this morning on interest rates. He said that rate cuts so far have had positive effect. Transmission of prior rate cuts working "reasonably well". Lower exchange rate is part of that and there are more cash to households as well. This shows that he is in no rush to cut rates again next week, but December is still on the table for another rate cut.
ECB's Weidmann is Against Monetary Easing – ECB member Weidmann commented this morning that the QE programme should be limited to exceptional situations. He also noted that if the ECB takes on a more explicit role in fighting climate change, it would overburden their policy-making and risk independence. Adding that disproportionate green bond purchases by the ECB would contradict the requirement for market neutrality.
UK Labour Party Accepts Elections – The Labour Party released a communication earlier which said that Labour will support an election. No-deal is off the table, so the condition has been met. We will now launch the most ambitious and radical campaign for real change our country has ever seen.
UK Money Supply – The Nationwide house price index turned negative last month, declining by 0.2%. This month it was expected to remain flat at 0.0%, but it beat expectations increasing by 0.2%. M3 money supply was expected to have increased by 0.3% in September but it too beat expectations, increasing by 0.7%, while mortgages remained at 66k, against 65k expected.
The US Session
December 9 Elections Are Logistically Impossible for Johnson – Boris Johnson's spokesperson made an appearance a while ago, saying that a December 9 election is not logistically possible. Johnson told cabinet that we need to have an election to end the paralysis in cabinet and get Brexit done. Will move second reading of early election bill. The government has no plans to lower voting age. The cabinet fully supported PM's early election bill. It would cause 'administrative chaos' to give vote to between 2.4m and 3.0m EU citizens in UK.
US CB Consumer Confidence – The consumer confidence report was released an hour early in Europe, since Europe shifted the clock an hour later this weekend. US consumer confidence has been weakening and it fell to 125.1 points last month. Although, that was revised higher today to 126.3 points. The confidence was expected to increase further to 128.2 points this month, but today's report showed that it cooled off to 125.8 points. Expectations also softened to 94.9 points, from 95.8 previously, while the present situation improved to 172.3 points from 169.0 prior and the jobs hard-to-get indicator also increased to 11.8 points from 11.0 prior.
US Pending Home Sales – The pending home sales turned negative in September, declining by 2.5%, but they turned positive again in August, increasing by 1.6%, which was revised lower today to 1.4%. In September, pending home sales were expected to increase again by 0.9% this time, but they beat expectations, increasing by 1.5%.
Trades in Sight
Bearish GOLD Long Term
The trend has turned bearish
The pressure is on the downside
The 50 SMA has turned into resistance
The chart setup looks pretty bearish
The 20 SMA is defining the trend for NZD/USD
Gold was pretty bullish during summer as the global economy weakened, but it has turned bearish in the last two months. The decline is not too fast, but highs are getting lower and the 50 SMA (yellow), which was providing resistance on the daily chart, has now turned into resistance. The chart setup looks quite bearish as well, with two bearish candlesticks following an upside-down pin last Friday. Stochastic was also overbought and now it has turned down, so I expect Gold to continue lower to the 100 SMA (green) at least.
In Conclusion
The sentiment has improved again in financial markets after the UK opposition Labour Party accepted general elections in December. The GBP was the first to jump higher, although the climb has faded now, but other assets are joining in as the sentiment improves.