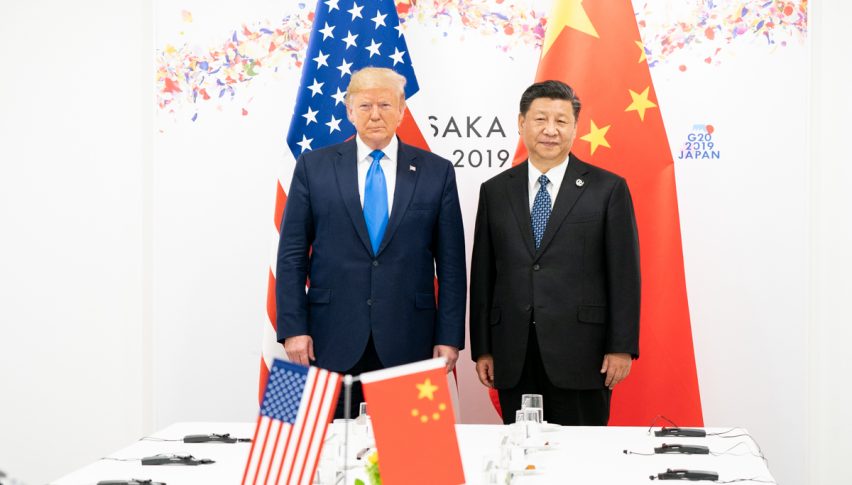 Forex Signals US Session Brief, Nov 18 – Safe Havens Rally on Trade Deal Pessimism From China
The sentiment in financial markets towards the end of last week and safe havens declined, while risk assets such as stock markets and commodity dollars rallied higher. Today, the price action was pretty slow during the Asian session and for most of the European session. But, we saw a report from CNBC a while ago, which suggested that Chinese officials are pessimistic regarding the trade deal with the US, as Donald trump has refused to roll back tariffs.
As a result, the sentiment shifted immediately and risk assets turned bearish, while safe havens are climbing higher. It doesn't mean that the "Phase One" deal is off the table, but shows that markets are too sensitive to such comments nowadays. The GBP has also been quite bullish today, on more favourable election sentiment for Boris Johnson's Conservatives. We also heard some comments from several ECB members, which point to a further bearish momentum for the Euro in the long term.
The European Session
ECB's de Guindos Speaking – The vice president of the European Central Bank, Louis De Guindos, made a few comments today. While he didn't comment too heavily on the monetary policy, he did touch upon some aspects of it, particularly the QE (quantitative easing) programme. Below are his comments:

Weak profitability a key vulnerability among Eurozone banks
Low rates among factors weighing on bank profitability
Eurozone recession is a very unlikely event
ECB won't reach limits on QE program 'shortly'
Fully aware that ECB policy has created side effects

No Recession in Germany for Bundesbank – Bundesbank released its latest monthly report. They said in there that the domestic economy will probably continue to provide momentum and there is no reason to fear that Germany would slide into recession. Manufacturing downturn could be leveling off. The slowdown is not likely to intensify markedly. The slowdown will probably continue in Q4 2019. The overall economic output could more or less stagnate.
ECB Vasle Speaking – ECB governing council member Bostjan Vasle is adding to the dovish tone of de Guindos. He made some comments a while ago, saying that September stimulus package is working, but if situation changes, there is room for lower rates. No reason now to alter Eurozone growth prospects. The economy is developing as projected by the ECB. Industry remains weak but services and labour market are more positive.
The US Session
ECB's Lane urges EZ Gov'ts to Start Fiscal Spending – The ECB main economist Philip Lane also made some comments earlier today. He said that Europe needs a 'big conversation' among fiscal policymakers about how to stimulate economy. Disorderly Brexit is less likely but if so, the ECB and BOE have worked closely together in last two years. Brexit is less of a big deal for Eurozone economy than the UK. We are worried about the impact of Brexit on Ireland.
China Feels Pessimistic About Trade Deal – Risk trades are now under pressure after this report from CNBC's Beijing correspondent Eunice Yoon: Mood in Beijing about #trade deal is pessimistic, government source tells me. China troubled after Trump said no tariff rollback. (China thought both had agreed in principle.) Strategy now to talk but wait due to impeachment, US election. Also prioritize China economic support.
Donald Trump to Testify on Impeachment Hearings? – The second impeachment probe is underway now,after the Russia election meddling proved to be a hoax. Trump is considering testifying in this new impeachment probe, which will likely turn out to be nothing at all. Trump tweeted a while ago: Our Crazy, Do Nothing (where's USMCA, infrastructure, lower drug pricing & much more?) Speaker of the House, Nervous Nancy Pelosi, who is petrified by her Radical Left knowing she will soon be gone (they & Fake News Media are her BOSS), suggested on Sunday's DEFACE THE NATION…that I testify about the phony Impeachment Witch Hunt. She also said I could do it in writing. Even though I did nothing wrong, and don't like giving credibility to this No Due Process Hoax, I like the idea & will, in order to get Congress focused again, strongly consider it!
Trades in Sight
The trend has bullish this month
The retrace down is complete
The 200 SMA providing support on the H4 chart
The chart setup points to a bullish reversal
The 200 SMA is providing support for USD/CAD
USD/CAD has turned bullish this month, as the decline in the USD stopped at the end of October. the 20 SMA (grey) has been providing support for this pair, pushing the price higher in the last two weeks, while today it's the 200 SMA which provided support earlier on. The pullback is now complete and stochastic is turning higher, so the bullish reversing chart setup is working out. We are already long on this pair from last week.
In Conclusion
The sentiment turned negative once again pretty quickly, after China's comments on trade. USD/JPY has tanked around 40 pips lower, while Gold has surged more than $15 higher. Although, I expect the price action to slow down and die out as we head towards the end of the European session, since the economic calendar today is almost empty, until Asian session when the PPI report will be released form New Zealand.
A growing number of leading Wall Street analysts to predict that 2020 will be the year to represent their American counterpart for the...
2 days ago