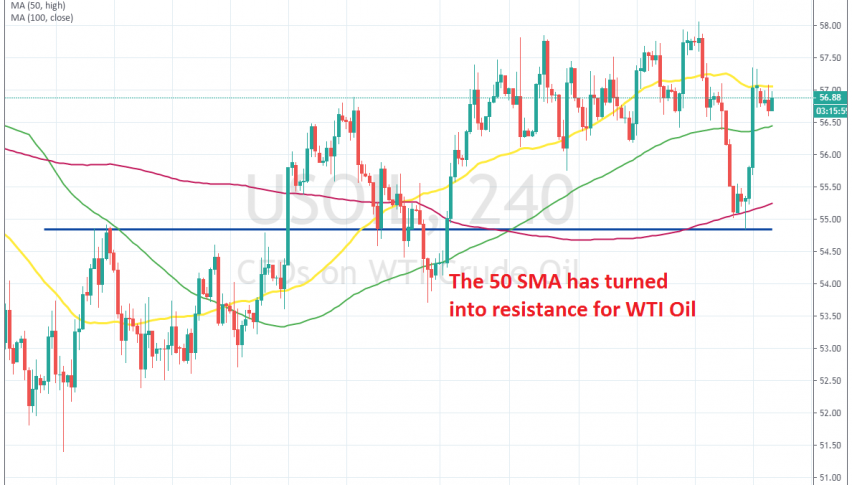 Gold Bounced off the 200 SMA as Predicted
On Tuesday, I posted an update about WTI Oil. US crude has been on a bullish trend since the middle of October when it reversed above the big support zone between $50 and $51. the sentiment turned positive back then after US and China agreed to a partial trade deal, which hasn't gone live yet.
But, the deal has become more difficult now, after Trump postponed it for December, while protests in Hong Kong are also meddling with the sentiment. The US Senate passed a human rights bill on Hong Kong which China didn't like, so the trade deal seems further away now and the sentiment turned negative again in the last two days.
On Tuesday, US Oil was heading lower and I highlighted the 200 SMA as a possible support and the big round number at $55, which has provided resistance again. The price reached that moving average and reversed higher from there. It pierced the 200 SMA and the $55 level, but there was no close below it, so it was a fake-out, just to trigger some weak stops.
After forming a hammer candlestick, which is a bullish reversing signal after the decline, Oil turned higher and bounced off the 200 SMA. Then we heard Russian Energy Minister Novak say that they support another production cut in OPEC+ December meeting, and Crude Oil surged higher. Russia hasn't exactly met the first quotas from OPEC, so it seems like they are just playing along to increase Oil prices. So, Oil is bullish again now, but the 50 SMA has turned into resistance now, so WTI Oil is trading between these 2 MAs now.