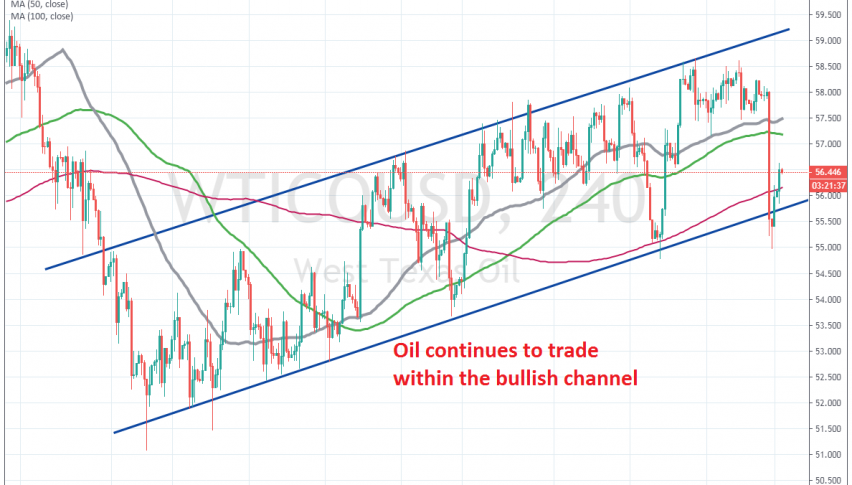 Crude Oil Turns Higher and Enters Inside the Bullish Channel Again
Just like other risk asset such as the commodity currencies, Crude Oil turned bullish in October, bouncing off the support zone above $50. Since then, buyers have been in control of it and US WTI crude has been trading inside a bullish channel, as shown in the H4 chart above.
Moving averages such as the 200 SMA (red) have also helped in keeping Oil bullish, providing support on pullbacks lower. Another factor which has helped Crude Oil remain bullish is comments from OPEC that they might decide to cut production quotas again in the December meeting.
But, as most of us know, they were just playing their hand to increase Oil prices. In recent days, we have heard further comments from OPEC+ officials, which suggest that they don't really want to cut production further, since it is their main source of revenue.
Crude Oil turend bearish last Friday though, after comments from the Russian energy Minister Novak that they would like OPEC to postpone the decision for further cuts until April at least. So, no further cuts this month and oil dived around $4 lower that day. The lower line of the bullish channel was finally broken, which was a sign that the trend might have reversed. But, today we see that the price has reversed higher and Oil is now back inside the channel.
So, Crude Oil remains bullish now, as long as it remains within the range. Although, the upside has lost pace and when it becomes perfectly clear that OPEC won't cut production again in a few days, then I assume we will see a decent pullback lower.