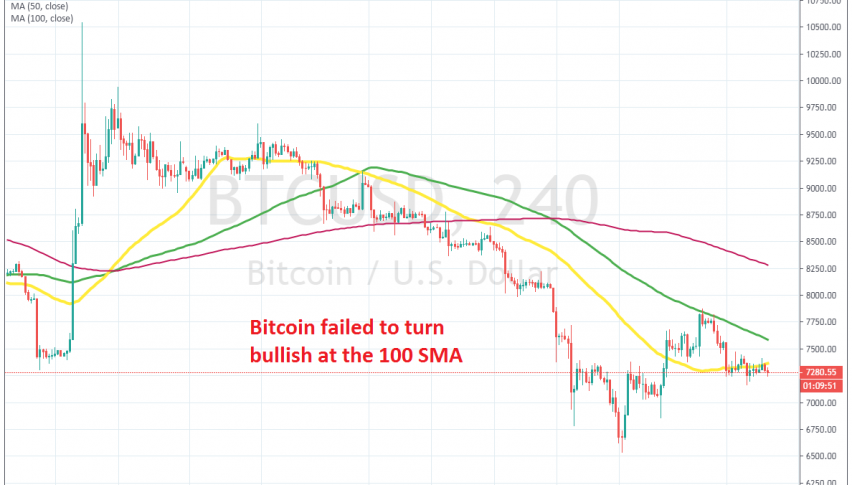 Bitcoin Unable to Turn Bullish, After Failing at the 100 SMA
BITCOIN has turned quite bearish since late June. Q2 was really bullish for cryptocurrencies, with Bitcoin surging more than $10,000, from above $3,000 to below $14,000. But, the situation reversed at the end of June and since then, the pressure has been on the downside.
The area above $9,000 which provided resistance on the way up turned into support for some time in Summer, but that support finally gave up. The next support zone came below $8,000, where Bitcoin found support during late September and October.
That support zone was broken as well in October, but towards the end of that month, we saw a $3,300 pip surge, which took the price above $10,500. That increased hopes for a bullish reversal, but the price closed below the 100 SMA on the daily chart and buyers couldn't break that moving average. Eventually, sellers gained momentum and reversed the price lower again. After all, if something can't go up, it will eventually end lower.
Bitcoin declined to $6,500 last month, but in the last week we saw another bullish reversal. Bitcoin, pushed above the 50 SMA (yellow) on the H4 chart, which offered another glimpse of hope that thing could change. That didn't happen though – the 100 SMA (green) turned into resistance and Bitcoin reversed back down from there. Now, the price is trading around the 50 SMA, so no bullish reversal for Bitcoin just yet.