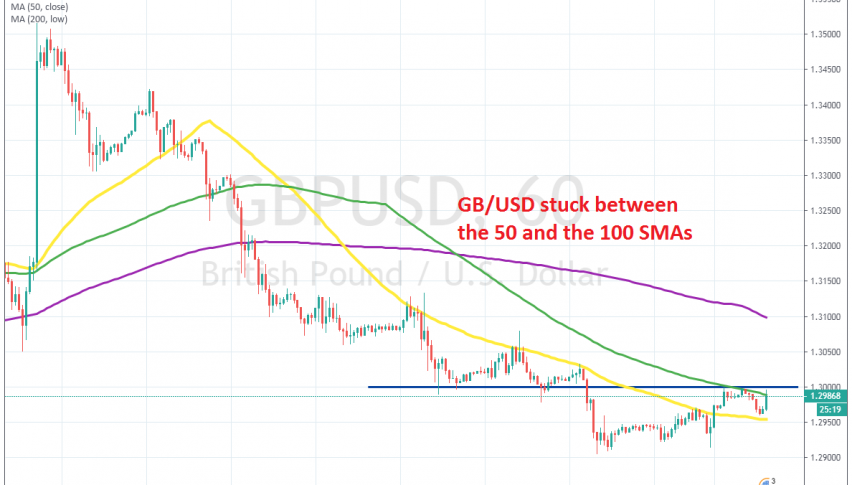 Selling GBP/USD Below 1.30
On Monday, I decided to open a sell forex signal/trade in GBP/USD As this pair was retracing higher and the 50 (yellow) was providing resistance on the H1 chart. This moving average had been providing resistance several times since early last week, as GBP/USD kept sliding lower.
The GBP surged more than 500 pips higher after the general elections in the UK and the strong win from the Labour Party. But, the reality hit back pretty fast and traders realized that the UK might still end up with a hard Brexit if they don't reach a trade deal with the EU within a year, which is really difficult.
The British economy is weakening as well and the Bank of England will likely start to ease the monetary policy soon, so there's not many reasons for the GBP to be bullish, hence the reversal above 1.35 and the downtrend of the last two weeks. For this reason, we decided to short this pair at the 50 SMA last week.
This moving average had been doing a great job in ending the retraces higher and reversing the price down. That's what happened in the last few hours of Monday. GBP/USD reversed down and lost around 40 pips, hitting the take profit target of our signal. Although, buyers returned again today and pushed above the 50 SMA.  But, the climb ended at the 100 SMA (green), which came at 1.30 exactly.
That big round level seems to have turned into resistance now, rejecting the price. But, the 50 SMA has turned into support and we saw GBP/USD jump higher off that moving average just a while ago. But, the resistance at 1.30 is holding on again and the price is retreating lower. So, we decided to take this opportunity and go short on this pair below 1.30, having the resistance and the 100 SMA cover our back.