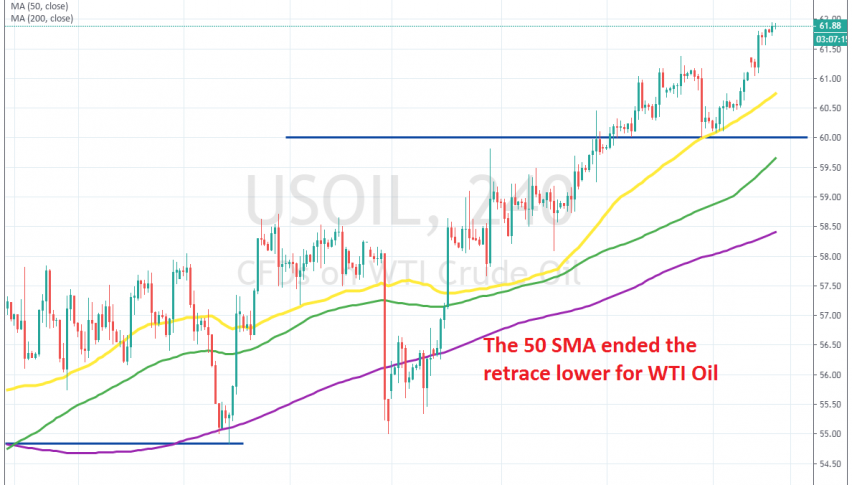 Crude Oil Continues the March Higher, as WTI Bounces off $60
WTI Crude Oil turned bullish in October, after having found support above the $50 area, which has turned into a support zone. Since then, the trend has been bullish, with the occasional pullback lower as a refreshment, before buyers pushed higher.
Last month though, we heard rumours from OPEC+ that they were going to cut production again, after having done so in previous years. Crude Oil continued the uptrend, but was finding it difficult to break above the next big round level at $60. We saw a pullback in the last day of November, after the Russian Energy Minister Novak said that new quotas might be postponed for later next year.
Traders were expecting new production quotas to be put in place by OPEC, so they got disappointed when Novak dismissed those expectations. But, OPEC+ did place new quotas on additional 50k barrels/day. That improved the sentiment and US WTI crude bounced off the $55 level, breaking above $60.
The $61 level was broken as well at the end of last week, but we saw a reversal at the beginning of this one, ahead of the Christmas period. It seems like traders were doing some position adjustment before heading for holidays, so they closed some buy positions. As a result, US crude retraced more than $1 on Monday, but the 50 SMA (yellow) held strong on the H4 chart.
Besides, this moving average came exactly at $60 at that time, which became a double support zone. The price bounced off that support level/MA and yesterday it got pretty close to $62. So, buyers remain in charge in Crude Oil, despite a weakening global economy.
But, the Phase One deal between the US and China has helped the sentiment, which is positive for risk assets such as stock markets and Oil. Although, let's see how long this lasts, because the phase one deal is not really that much and many tariffs are still in place, besides the general elections in US and China next year which are big risk factors for traders.