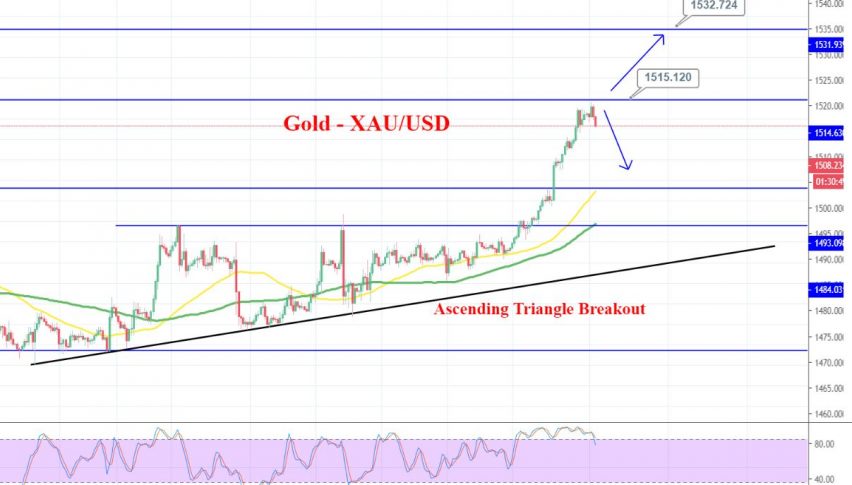 Daily Brief, Dec 27: Economic Events Outlook – Gold Hits Target, Brace for Next
Posted Friday, December 27, 2019 by
Arslan Butt
• 2 min read
Good morning, fellas.
The precious metal gold traded in line with our forecast to hit the suggested target level of $1,510. Gold prices were closed at $1,511.090 after placing a high of $1,512.58 and a low of $1502.30. Overall the trend for gold remained bullish throughout the day.
On Thursday, gold prices rose about 0.8% close to 2-month high at $1,511 and continued moving above $1,500 level despite low volume trades due to holiday.
This is despite Donald Trump stating on Tuesday that he and Chinese President Xi Jinping have agreed to have a ceremony for the signing of a phase-one deal this month, and on Wednesday, Chinese officials also confirmed this statement. But still, investors are awaiting the details of a phase-one agreement to be released to further react to this scenario. The date of signing has also not been confirmed yet, and the month is at its end.
On Wednesday, Beijing said that it was in close touch with Washington on the matter of signing the phase-one trade deal. Gold has gained almost 18% this year on the back of this US-China trade war and its impact on the global economy.
Investors will give their reaction now on the signing of phase-one deal and publication of its details. The hopes of a breakthrough in the US & China trade war, along with the recent positive US economic data have raised the US stock markets to a record high. The S&P 500 SPX rose to its best level since 2013.
According to David Meger, director of metals trading at High Ridge Futures, "As portfolio managers rebalance equity portfolios and take profits off the table, they reinvest those funds into other asset classes and gold is a beneficiary of that."
On the other hand, in this month's Federal Reserve Meeting, it was decided that interest rates will remain unchanged throughout next year. This unanimous vote by Fed officials for not changing rates next year has signaled that in order to raise or lower its borrowing costs, Fed would require a material change to outlook.
The yellow metal is highly sensitive to rising interest rates because it lifts the opportunity cost of holding non-yielding bullion.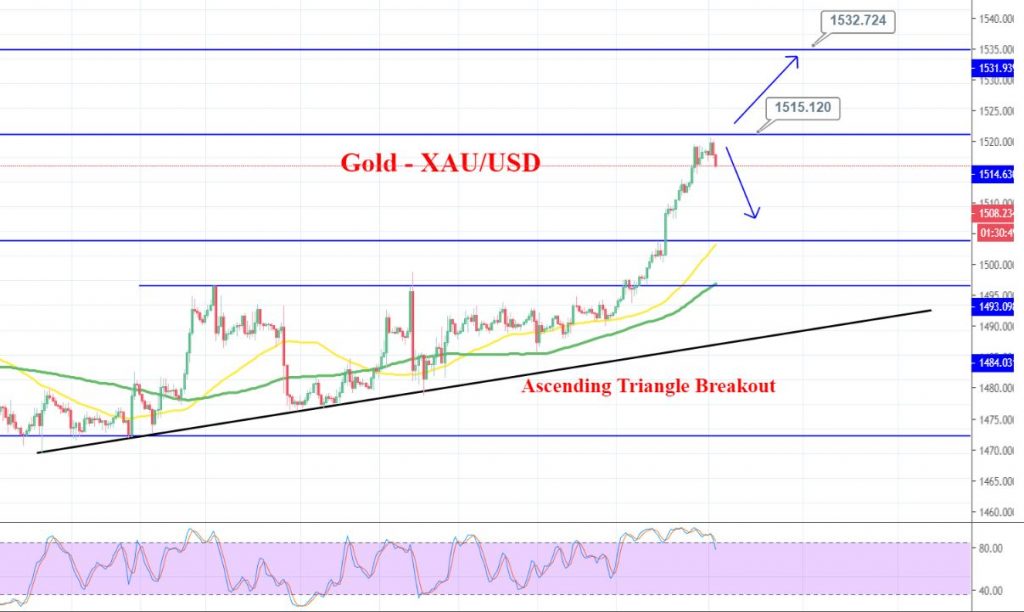 GOLD – XAU/USD – Daily Technical Levels
Support Resistance
1505.18 1515.15
1498.97 1518.92
1488.99 1528.89
Pivot Point 1508.94
The precious metal gold continues to trade in line with the forecast and trades in between 1,510 to 1,514 resistance areas. The bullish bias in gold still remains strong as the MACD histograms stay above 0, and the RSI is holding in the overbought zone.
Sellers are looking to enter the market, but the appropriate level is needed. A slight bullish movement can be seen in gold until 1,516/17, and below this level, I will be happy to take a sell position. In any case, if 1,517 also gets violated, gold's next stop will become 1,535. Good luck!