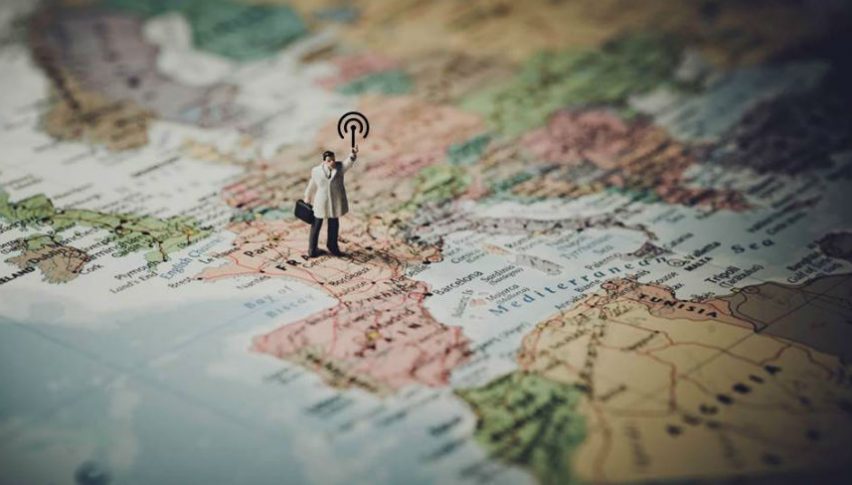 Forex Signals US Session Brief, Jan 6 – Sentiment Improves Somewhat, As Markets Concentrate on European Services for A Change
Financial markets have been quite difficult to trade in the last couple of years. Politics have been interfering with them during this time and there have been many issues moving markets up and down, such as US-China trade war, Brexit, Hong Kong protests, attacks on Saudi Arabia Oil facilities etc. In the last week, another conflict has appeared, that between US and Iran, after the killing of top Iranian military leader Soleimani. That sent safe havens higher and risk assets tumbling lower. So, politics kept messing with markets until the last days of 2019.
That will continue for quite some time, but traders are focusing on economics for a change today. The manufacturing and industrial sectors have been the most affected and they have been in contraction/recession in all major economies for months now. They were pulling the service sector down as well, especially in Europe. But, today's services PMI reports from Europe posted some nice gains for December, which removed some of the fears that the Eurozone economy might fall in recession, which should if services fall in recession.  The climb in safe havens has stopped for now and risk assets are recuperating some of the losses, but I don't think this will last long.
The European Session
Eurozone Services PMI – The economy of the Eurozone has been weakening for nearly two years now and manufacturing and industrial sectors in particular have been in recession for quite some time, as the trade war affected them negatively. That weakness eventually spread into other sectors such as services, which has forced the ECB to start easing the monetary policy again late last year.
Although, we have been seeing some green shots recently and today's service PMI reports offered some hopes for the future. Below are the figures from major countries in Europe:
Spain December services PMI 54.9 vs 53.9 expected
Prior 53.2
Composite PMI 52.7 vs 52.0 expected
Prior 51.9
Italy December services PMI 51.1 vs 50.9 expected
Prior 50.4
Composite PMI 49.3 vs 49.7 expected
Prior 49.6
Germany December final services PMI 52.9 vs 52.0 prelim
Composite PMI 50.2 vs 49.5 prelim

Eurozone December final services PMI 52.8 vs 52.4 prelim

Composite PMI 50.9 vs 50.6 prelim
UK Services PMI – UK services have been weakening throughout 2019 and they fell in contraction in November, as the report released last month showed. Although, that month was revised higher in the final reading from 48.6 to 49.3 points. Today's report was expected to show another weakening in this sector,but it came at 50.0 points, which means that it is in stagnation now.

Eurozone Sentix Investor Confidence – The investor confidence has been negative in the Eurozone for a long time, although it has improved in recent months and last month it resurfaced again, coming at 0.7 points. Today's report was expected to show another improvement to 3.0 points, but came in better at 7.6 points.
The US Session
US Services PMI – Services have been weakening in the US as well, as manufacturing sector fell in contraction back in September and still remains there. Although, services improved a little in November to 51.6 points after approaching pretty close to contraction in the previous month. This month services PMI was expected to improve further to 52.2 points, but came in better at 52.8 points.
US Still Hoping for A Nuclear Dell with Iran – The US air strike on Iran's Soleimani has escalated the conflict between US and Iran. We heard comments a few days ago that the US wants to de-escalate the situation, but trump has also threatened with more attacks if Iran retaliates. Today we heard Trump's adviser Kellyanne Conway  saying that Pres. Trump  is confident he can still renegotiate a nuclear deal with Iran. Tat would be a big surprise if it happens.
US November Construction Spending – Last month's report showed that spending in the construction sector declined by 0.8% in October, which was worrisome. But today's report showed that US November construction spending increased by 0.6% against 0.4% expected. Below are the revisions from last month and the components of this report:

Prior was -0.8% and revised sharply higher to 0.1%
Construction spending rose 0.6% versus 0.4% estimate
private construction rose 0.4%
public spending rose 0.9%
private homebuilding rose by 1.9%
private nonresidential structures which includes manufacturing power plants dropped for the 3rd straight month. It fell -1.2% to the lowest level since November 2018
spending on public construction projects rose 0.9%
spending on local government construction projects rose by 0.8%
spending on federal government construction projects (which represent a small sliver of overall public construction) increase by 1.7%
Trades in Sight
The trend has turned bearish
The retrace higher is complete
The sentiment remains negative

The trend has shifted to bearish in USD/JPY
As I highlighted in one of my earlier posts today, USD/JPY has turned quite bearish. This pair was trading on a bullish trend since September as the trade war rhetoric cooled off, but it turned bearish in the last week of last year, initially due to year-end cash flows and then, the killing of the Iranian top military leader sent this pair diving lower. The reversal was quite swift and the downtrend has been pretty strong during this time, as shown by the smaller moving averages which have been providing resistance and pushing the price lower. The 20 SMA (green) was pushing USD/JPY lower in the last few days of 2019.
Then the 50 SMA (yellow) came to the rescue in the first days of 2020. The 20 SMA came into play again after that, but today we saw a bigger retrace higher. However, USD/JPY is finding resistance at the 50 SMA again on the hourly chart. The retrace is complete now, so we decided to take this chance and open a sell signal in this pair. The price is reversing down again, so it seems like this will be a good trade.
In Conclusion
Markets continue to be cautious today and the sentiment continues to lean on the negative side, but it has improved  a bit compared to last week, after the services PMI reports from Europe and US showed that this sector is moving away from contraction. This is a great sign, because if services fall in recession, then we will have another global economic crisis.