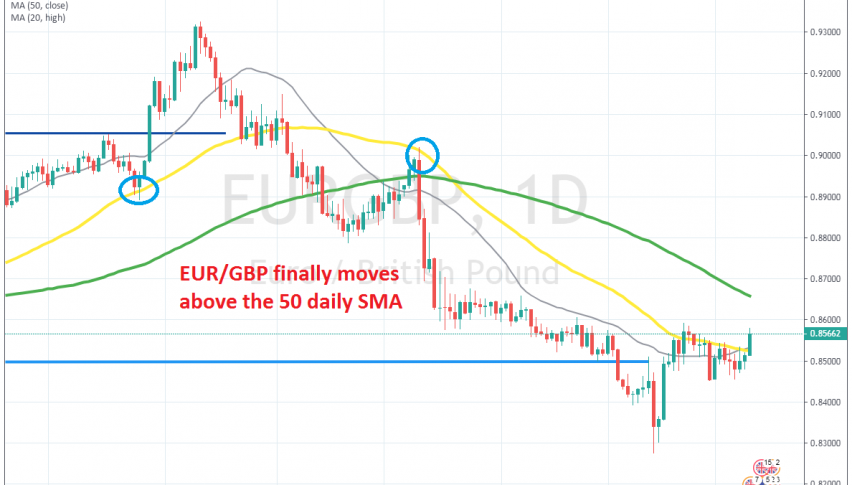 The Trend Might be Changing for EUR/GBP, as it Moves Above MAs
EUR/GBP has been bearish since August last year, after the European manufacturing fell deeper into recession, forcing the European Central Bank to turn dovish and cut deposit rates in September and restarting the QE programme in November. On the other hand, the GBP turned bullish in October, which has contributed further to the bearish trend in EUR/GBP.
During the decline, moving averages such as the 20 SMA (grey) and the 50 SMA (yellow) have been providing resistance during pullbacks higher, pushing this pair lower. In December we saw another assault to the downside in this pair, after Conservatives won a clear majority in the UK Parliament.
But, GBP traders quickly came to their senses and the optimism after the elections faded, sending this pair higher on the daily chart, as seen above. But, the 50 SMA continued to provide resistance for a couple of weeks. Although, today the 50 SMA has finally been broken for the first time since August last year.
Today's GDP report from the UK was disappointing again and the the markets are fully pricing in a rate cut in September by the Bank of England and the GBP turned bearish, sending this pair above the 50 SMA earlier today.
So, now EUR/GBP has broken this resistance indicator, which puts into question the downtrend. The Euro doesn't have any reasons to be bullish, but if the economic situations continue to deteriorate in the UK, then buyers will push higher and the trend will finally change.
EUR/USD should break below 1.06 this week with the business climate and inflation softening further in September
3 days ago