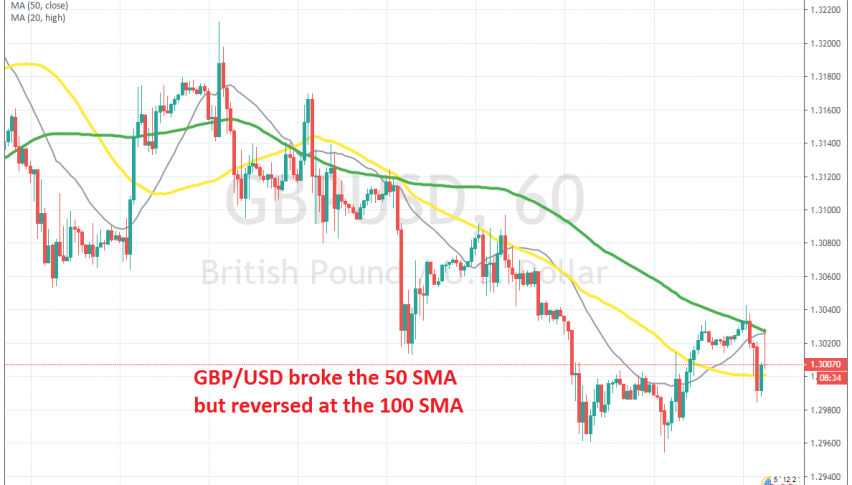 GBP/USD has turned bearish since the day following UK elections in December. We saw a climb higher towards the end of the year, but that was just a retrace and the downtrend resumed again. On the way down, the 50 SMA (yellow) turned into resistance and GBP/USD fell below 1.30 again.
Yesterday we saw a retrace higher on the H1 chart, and this pair was finding resistance at the 50 SMA again. We decided to open a sell forex signal up there. The 50 SMA rejected the price in the first attempt and GBP/USD reversed down, getting 1 pip close to our take profit target.
But, it reversed back up in the evening and pushed above the 50 SMA on H1 chart. Although, it found resistance again at the 100 SMA (green) on the same time-frame. The price formed a doji there and reversed back down. On the H4 chart, we see that the 20 SMA (grey) and the 100 SMA (green) were standing up there where the 50 SMA stood on the H1 chart.
On the H4 chart, GBP/USD reversed below the 20 and 100 SMAs
The price reversed below those moving averages, so the retrace higher seems over now. Fundamentals also helped, with UK CPI inflation report showing that headline inflation cooled by 2 points, falling to 1.3% in December from 1.5% in November and core inflation lost 3 points, falling to 1.4%. The Bank of England is sounding increasingly dovish now, so I expect this pair to remain bearish, but volatility will be here to stay, so be careful.