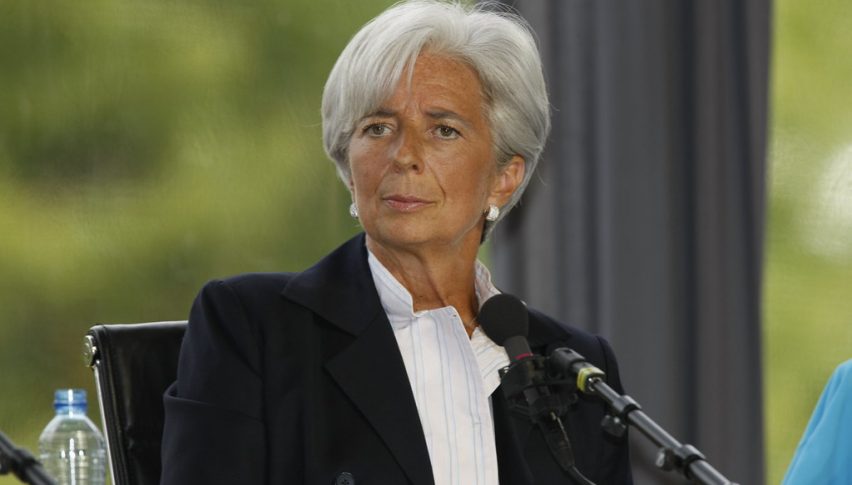 Forex Signals US Session Brief, Jan 23 – ECB Leaves Things As They Were
Today started on a positive footing, as the employment report from Australia came in better than expected for December. New jobs increased more than anticipated, while the unemployment rate ticked lower to 5.1%. AUD/USD jumped higher, but markets still anticipate a rate cut from Australia, as Westpac also suggested earlier today. So, AUD//USD is not going anywhere now. The chairman of the Swiss National Bank Jordan held a speech this morning,saying that they don't manipulate the currency, but then repeated that the SNB stands ready to intervene if the CHF which is overvalued keeps strengthening.
The European Central Bank held their monthly meeting today and markets were expecting some direction from them, since inflation has picked up from 0.7% last year and stabilized at around 1.3% now. Lagarde acknowledged that and the improvement in the economic sentiment, but pledged to keep rates steady or lower if inflation doesn't head towards the ECB target at 2%, which will take a long time. So, they left things were they were, basically waiting to see how things will evolve, so no direction in forex yet.
The European Session
UK Leaves the Door Open for Huawei on G5 – China has been pushing to get a strong foot in Europe for 5G, but the US is pushing back. UK has hinted that it was going to be on the US side on this and this morning the UK business secretary, Andrea Leadsome said that they will make a final decision on Huawei 'soon'. But, Reuters reported later, citing two people with knowledge of the matter that UK officials reportedly recommend limited role for Huawei in 5G network.

SNB's Jordan Responding to US Currency Manipulation Watch List –The Swiss National Bank chairman, Thomas Jordan, was speaking on CNBC earlier today. He is trying to tell us/the US that they don't mess with the Franc, after being included in a list of countries that manipulate their currency by the US, but we al know they do.

Doesn't see a new minimum exchange rate at the moment
We don't manipulate Swiss franc exchange rate
Franc exchange rate is important in relation to Swiss monetary conditions
Negative rates are a necessity
Negative rates have side effects, SNB trying to minimize those side effects
Balance of risks is tilted to the downside
SNB conducts independent monetary policy, does not follow the ECB
But needs to take international environment into account
SNB could still cut rates if needed
Franc is still highly valued
Must maintain negative rates, interventions
SNB can intervene as necessary

China Increases Measures for Coronavirus – Wuhan has been effectively quarantined in fears that the new coronavirus outbreak will become more widespread, with China suspending buses and ships to Wuhan. Beijing announced later that they will be cancelling all major events, including the Chinese New Year celebrations because of the new coronavirus outbreak.
ECB Statement – The European Central Bank held its meeting today and they released their statement a while ago. They kept interest rates unchanged, as expected.ECB Rates

Deposit rate facility -0.50%
Main refinancing rate 0.00%
Marginal lending facility 0.25%

ECB Statement

Rates to remain at present or lower levels until inflation outlook robustly converges to target, reflected in underlying inflation
Announces first strategic review of policy since 2003
Further details on scope, timetable of review will be due later at 1430 GMT
Bond buying to continue until shortly before rates are raised
The US Session
ECB Press Conference – The ECB president Christine Lagarde held the usual press conference after the rate decision. She said that the incoming data are in-line with baseline scenario. Manufacturing remains a drag, but employment growth continues to support economy. There are some signs of an increase in inflation that's in line with expectations. In light of continued subdued inflation outlook, monetary policy has to remain stimulative for a prolonged period of time. We will closely monitor inflation developments. We will closely monitor inflation developments. ECB ready to adjust all instruments as appropriate and committed to symmetry on inflation. Eurozone inflation increase 0.3% q/q in Q3 vs +0.2% in Q2. Weak growth reflects weakness in global trade.
US Preparing to Cut Taxes Again According to Mnuchin – US Treasury Secretary Mnuchin was speaking in Davos earlier, saying that we've started to work on Tax Cut 2.0. He made a bunch of comments ad follows:

Treasury Secretary Mnuchin is speaking from Davos on CNBC

US is a bright spot of global growth
The increase in the deficit is increasing government spending
Government spending growth must low down
The US can not sustain deficit level and the government has to cut back on spending
The President is looking toward tax cut 2.0 which will focus on the middle class
We need to continue to incentivize the the middle class
tax cuts will pay for themselves
Supports a stable dollar
Deficits are reasonable versus GDP, but we have to grow so we can shrink them over time
US companies/CEOs it should still feel comfortable doing business with Saudi Arabia
No question US wants to expand borrowing capability
Will take a bit longer to do a 50 year and hundred year bond.

US Unemployment Claims – Unemployment claims used to stand around the 220k range, but they declined to 204K two weeks ago. They were expected to increase last week and they did but the increase was less than expected.

initial jobless claims 211K versus 214K estimate
prior month revised to 205k from 204K previously reported
four-week average of initial claims 213.25K vs 216.250K
continuing claims 1731K versus 1750K estimate
prior month revised 1768K versus 1767K previously reported
four-week average 1757.75K vs 1755.5K previously reported
The largest increases in initial claims for the week ending January 11 were in California (+15,273), Texas (+9,535), Missouri (+3,439), Florida (+2,244), and Arizona (+1,522),
The largest decreases were in New York (-21,532), Wisconsin (-4,599), South Carolina (-2,842), Connecticut (-1,866), and New Jersey (-1,856).
Trades in Sight
The retrace higher is over for this pair
The trend has turned bearish
MAs have turned into resistance

The 50 SMA has turned into resistance now
EUR/USD has been bearish for around two years now, but it reversed higher in October and has been climbing higher since then. The sentiment improved in financial markets on comments about the Phase One deal between US and China which was signed this month and the prospects of the UK heading into elections back then, helped the situation further.
Year end cash flows gave this pair another push higher at the end of last year. But the climb ended as soon as the new year was underway and geopolitical tensions between US and Iran hurt the sentiment in financial markets, sending risk assets lower.
As a result, the retrace higher has ended and the larger bearish trend has resumed again.  The highs kept getting lower and moving averages turned into resistance, with the 50 SMA (yellow) providing resistance this week. We saw a jump higher earlier today after the ECB meeting, but the climb ended at the 50 SMA again. So, sellers remain in charge for this pair and the ECB pledged to keep rates negative or lower until inflation climbs to the ECB target at around 2%, so that's going to take a long time and the Euro will likely remain bearish in the meantime.
In Conclusion
Markets were waiting for the ECB today, to see if they have a bias for the coming months, after some green shots from the Eurozone in recent months. The ECB did recognize the stabilization in inflation after it has picked up from below 1% where it bottomed out, but they remained cautious and accomodative, so the same as in the last meeting basically.