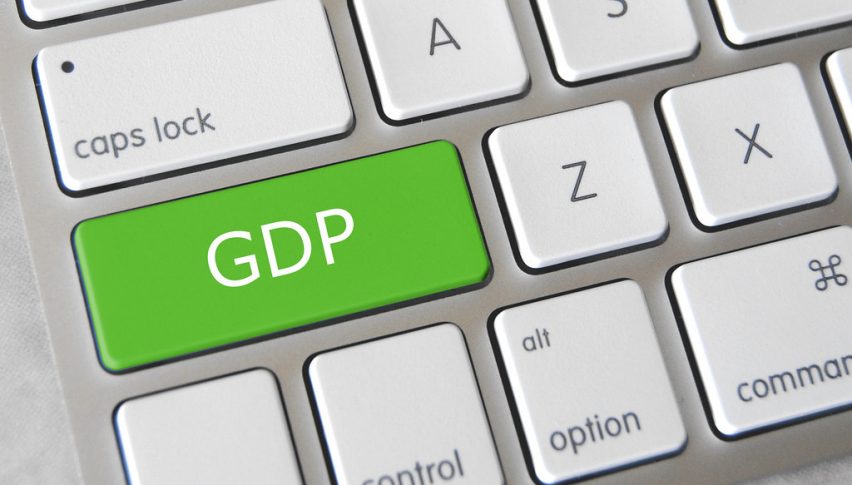 Forex Signals US Session Brief, Jan 31 – Important Data being Released Today, But Markets Are Still Trading the Coronavirus
The sentiment has been pretty negative so far this year, after the escalating tensions between US and Iran and later the corona-virus outbreak in China. China has taken strong measures to fight the epidemic, which has helped the sentiment in the last few days, but today we saw some cases in UK and Italy, which have turned the sentiment negative again. If the virus spreads across the globe, it won't matter if China fights it back. So, we're close to a widespread panic, which would sent stock markets diving lower and safe havens such as GOLD surging even higher.
The virus is moving markets around nowadays, but we also had some important data releases as well today. Inflation cooled off by 2 points int he Eurozone, as the core reading showed, despite the headline number ticking a point higher to 1.4%. The GDP for Q4 of 2019 was also disappointing for the Eurozone, while we saw a contraction in France and Italy in Q4. Canadian GDP report was a bit better, showing a 0.1% expansions in November, but that's still not much to help the CAD.
The European Session
German Retail Sales – Retail sales have been very volatile in Germany for about two years. In November, sales posted a big increase of 2.1%, which was revised lower today to 1.6%. For December, retail sales were expected to turn negative again and post a 0.5% decline, but the decline was much larger at -3.3%. Retail sales YoY also moved lower to+0.8% against +4.5% expected.
Eurozone CPI Inflation  – The inflation report from the Eurozone was released today, after the French and Spanish CPI reports this morning, which came a bit better than expected. The headline CPI number was also higher today, but the core number which is more important was disappointing:

Eurozone January preliminary CPI +1.4% vs +1.4% y/y expected
November stands unchanged at +1.3%
Core CPI +1.1% vs +1.2% y/y expected
Prior +1.3%

 

Eurozone GDP – After the negative GDP readings from Italy and France which showed a contraction in Q4 of 2019, this just reaffirms that the euro area economy pretty much encountered stagnation in the final quarter of last year. For now, the hope is that 2020 will deliver better expectations, but we'll have to wait and see on that. This will keep the ECB dovish and EUR/USD bearish for some time to come.

Eurozone Q4 preliminary GDP +0.1% vs +0.2% q/q expected
Prior (Q3) +0.2%; revised to +0.3%
GDP +1.0% vs +1.1% y/y expected
Prior (Q3) +1.2%
French GDP QoQ -0.1% against 0.2% expected
Italian GDP QoQ -0.3% against 0.1% expected
The US Session
Canadian November GDP Report–  The GDP report for November has been released from Canada. The economy was expected to remain flat at 0.0% after a 0.1% decline in October, but it beat expectations, increasing to 0.1%.

Prior was -0.1%
GDP +1.5% vs +1.4% y/y expected
15 of 20 sectors rose
Laggards were in mining, oil & gas, transportation & warehousing — in part due to disruptions in rail and pipelines
Construction +0.5%
Retail trade +0.5% vs -1.1% in Oct, led by motor vehicles
Goods producing +0.1% m/m
Service providing +0.1% m/m

US Personal Spending and Income – The US personal spending, personal income and PCE data for December 2019 was released a while ago, showing a slight cooling off from November.

Personal spending 0.3% versus 0.3% estimate. Last month unrevised at 0.4%
Personal income 0.2% versus 0.3% estimate. Prior month revised down to 0.4% from 0.5%
Real personal spending 0.1% versus 0.1% estimate. Last month 0.3%
PCE core deflator MOM 0.2% versus 0.1% estimate. Prior month 0.1%
PCE core deflator YoY 1.6% versus 1.6% estimate. Prior month revised down to 1.5% from 1.6%
PCE deflator MOM 0.3% versus 0.2%. Prior month revised down to 0.1% from 0.2%
PCE deflator YoY 1.6% versus 1.6% estimate. Prior month revised down to 1.4% from 1.5%
Trades in Sight
Bullish [[AUD/UD]]
The trend has turned bearish this month
The sentiment is still negative
MAs are pushing the price lower

The 20 SMA is providing resistance this week
AUD/USD was pretty bullish in December, as risk assets were climbing higher on positive sentiment in financial markets, due to the Phase One trade deal between US and China. The clear win from Boris Johnson in UK elections also helped improve the sentiment further, but that ended once the new year began.
AUD/USD turned bearish as the sentiment got dented, following the geopolitical tensions in the Middle East between US and Iran and risk assets turned bearish. Then, the outbreak of the coronavirus in China crashed everything and AUD/USD has lost around 350 pips so far.Moving averages have turned into resistance now, with the 100 SMA (green) and the 50 SMA (yellow) providing resistance at first, then the 20 SMA (grey) took that job as the decline accelerated. This shows that the trend is picking up pace. So, sellers remain in control here and we will try to sell pullbacks higher.
In Conclusion
The Canadian GDP report for November showed that the economy expanded after contracting in October, but that was not much. In Europe, the GDP for Q4 of 2019 was pretty soft,showing that Europe closed a terrible year. Inflation cooled off as well, which should keep the Euro bearish, despite the bullish move today.