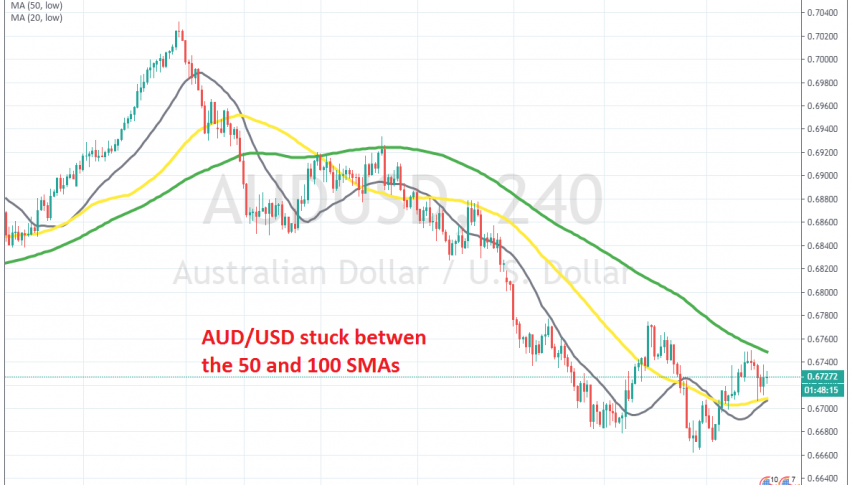 AUD/USD Now Stuck Between MAs as Uncertainty Prevails
On Tuesday, we opened a sell forex signal in AUD/USD . This pair had been on a bearish trend since early January, when tensions between Iran and US escalated, hurting the sentiment for risk assets. Those tensions didn't last too long, thank God, but coronavirus took over and it hurt the sentiment a lot more, especially for commodity Dollars such as the Aussie and the Kiwi, while safe havens like GOLD rallied higher.
As a result, AUD/USD lost nearly 400 pips from top to bottom. But, we saw this pair retrace higher at the beginning of this week and decided to short the pullback. The price was finding resistance at the 50 SMA (yellow) on the H4 chart, where we decided to sell this pair.
The 50 SMA rejected the price initially and AUD/USD got pretty close to hitting our take profit target. But, the price reversed back up and broke above that moving average, as the sentiment improved further, despite the cases of coronavirus increasing above 60k in China.
But, as we highlighted yesterday, the climb stopped just below the 100 SMA (green), which has provided resistance before. AUD/USD reversed down from there yesterday, so that's a sign that the 100 SMA is still standing strong as resistance. But, the 50 SMA has now turned into support, ruining the plans for sellers.
This moving average stopped the decline yesterday and today AUD/USD has bounced off of it. So, this pair remains stuck between these two MAs now, as the panic from coronavirus has abated somewhat, but the risk is still here. So, AUD/USD remains in between these two MAs until either the risk sentiment improves further, which would send this pair above the 100 SMA, or it turns negative again, in which case the larger bearish trend would resume.