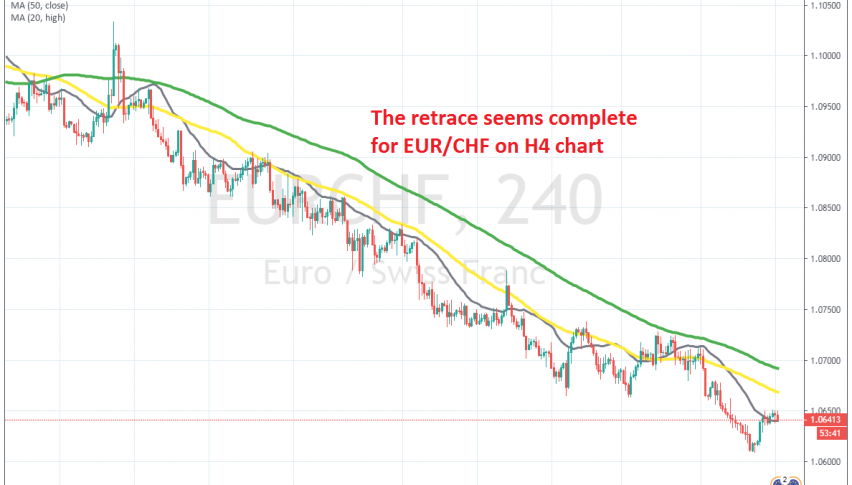 Selling the Retrace in EUR/CHF
EUR/CHF has been bearish since mid December. This pair jumped higher back then, after the general elections in the UK which were won by Boris Johnson and the Phase One deal agreement between US and China. Both events helped improve the sentiment, sending this pair higher back then, but the optimism faded pretty soon and the bearish trend began.
Since then, the pressure has been totally to the downside, as the weak pullbacks show. Buyers have been really weak whenever they have tried to retrace this pair higher. Pullbacks have ended at smaller period moving averages, such as the 20 SM A(grey) and the 50 SMA (yellow) on the H4 chart, which shows that sellers are in total control in this pair.
In the last few session on Friday last week, this pair retraced higher, as traders closed some of their sell positions ahead of the weekend, just in case Chinese officials tackled down coronavirus, which would help the sentiment tremendously and send this pair surging higher for some time, as a relief rally.
But, no such luck; coronavirus cases keep increasing, which is keeping the sentiment in check in financial markets. As a result, risk assets such as the Euro remain bearish, so we decided to sell this retrace in EUR/CHF. We opened a sell forex signal a while ago in this pair, since buyers seem exhausted now, after the retrace higher. It would be safer to wait for the 50 SMA to catch up, but I don't think sellers will wait until then and i don't want to loose this opportunity, so we already sold this pair.