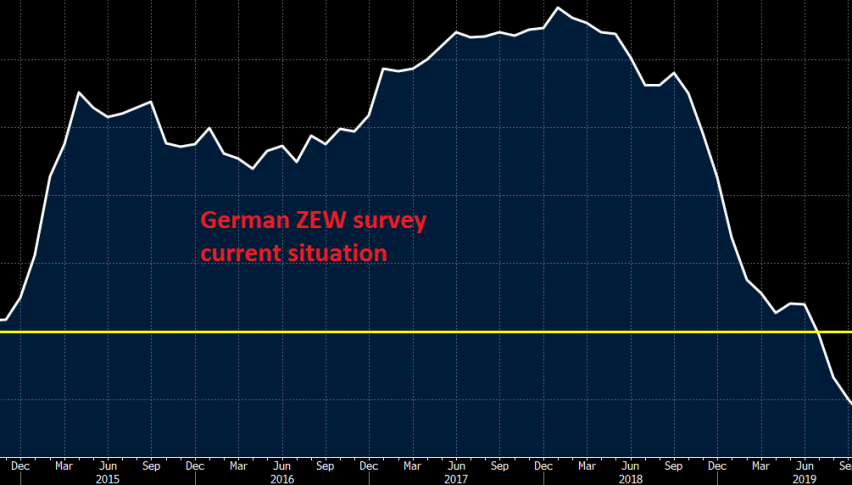 EUR/USD Continues the Decline, as ZEW Economic Sentiment Weakens Again
The economy of the Eurozone has been weakening for two years and, as a result, the ZEW economic sentiment falling into negative territory last year and bottoming at around -44 points. Although, in recent months the Eurozone economy has stopped weakening and we have seen some slight improvement, after the ECB restarted the QE programme and cut deposit rates further to -0.50%.
In January, the ZEW economic sentiment jumped to 22 points, both in Germany and the Eurozone, but we see that this month it has made a U-turn and has softened considerably. Below are the reports from Germany and the Eurozone:
Germany February ZEW survey current situation -15.7 vs -10.0 expected
Prior -9.5
German ZEW economic sentiment expectations 8.7 vs 21.5 expected
Prior 26.7
Eurozone ZEW economic sentiment expectations 10.4
Prior 25.6
As seen above, the current situation has dipped to -15.7 points in Germany, while in the Eurozone, the sentiment has softened to 10 points from 25 previously. This is due to the outbreak of coronavirus, which has come at the worst time, just when the Eurozone and global economy were starting to improve, after weakening for nearly two years. This is bearish for EUR/USD, which continues the decline.
EUR/USD has been bullish since October, but the move might have come to an end and we are seeing a slow reversal lower ahead of the ECB
1 day ago