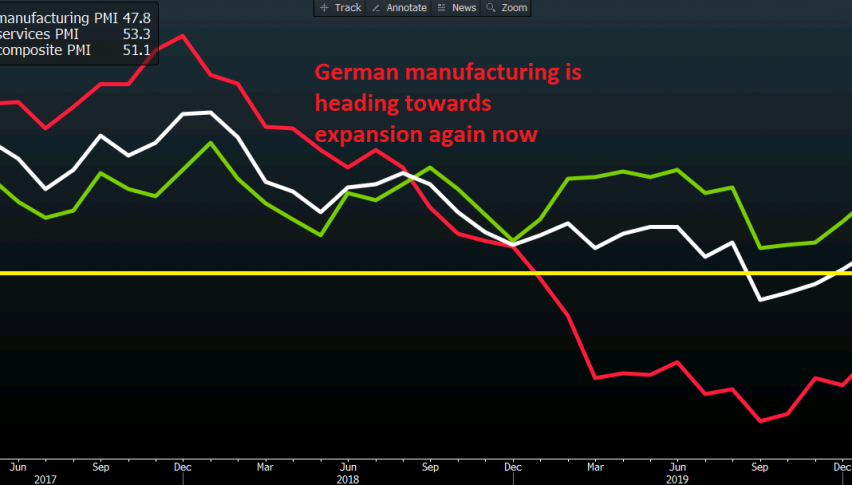 Manufacturing Improves in Germany, but Remains in Contraction
Manufacturing has been in recession in Europe for about a year now. The European Central Bank has eased the monetary policy further, cutting deposit rates to -0.50% and restarting the QE programme late last year. That seems to be having some positive effects already, as we have seen services and manufacturing stop weakening further.
Today's manufacturing report from the Eurozone showed further improvement, as did the German manufacturing figures. Below are the reports from Germany and the Eurozone:
German Manufacturing Report
Germany February flash manufacturing PMI 47.8 vs 44.8 expected
Prior 45.3
Services PMI 53.3 vs 53.8 expected
Prior 54.2
Composite PMI 51.1 vs 50.7 expected
Prior 51.2
Eurozone Manufacturing Report
Eurozone February flash manufacturing PMI 49.1 vs 47.4 expected
Prior 47.9
Services PMI 52.8 vs 52.3 expected
Prior 52.5
Composite PMI 51.6 vs 51.0 expected
Prior 51.3
A solid beat in the manufacturing reading and that will give the euro something to cheer about after a poor run of recent economic data. Markit also notes that the coronavirus epidemic is having a "fairly limited" impact on manufacturing production disruption and supply issues and that is definitely positive news if the virus can be contained within the realms of Q1 2020.
So, positive numbers from Europe today. Manufacturing still remains in recession, but seems like it will leave recession behind soon, if the situation keeps improving. The Euro jumped around 30 pips higher, but has reversed down now.