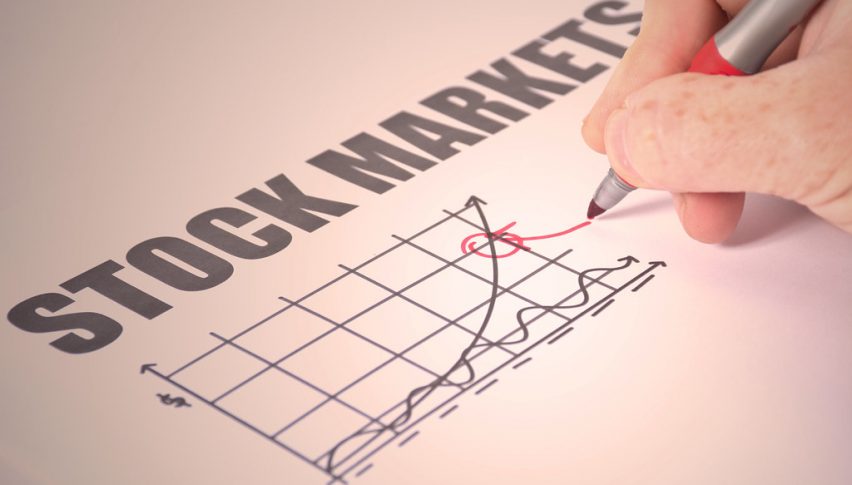 Forex Signals US Session Brief, Feb 26 – Risk Sentiment Finally Improves A Little After 2 Horrible Days
Posted Wednesday, February 26, 2020 by
Skerdian Meta
• 4 min read
It looked like markets got used to coronavirus, as the sentiment improved in the first few weeks of this year. The virus was being confined within China until last weekend, with few cases outside, which were under control. But, the breakout in Italy, Iran and Japan over the weekend pushed the panic button again and markets opened with a bearish gap lower on Monday. Then, we saw new cases in other European countries yesterday, which kept the sentiment negative and risk assets sliding lower.

Today, we saw stock markets open with another bearish gap lower in the European session and continued lower int the first few hours, with German index DAX falling to 12,375 points. But, the sentiment improved as the session progressed and European stock reversed higher. Risk currencies are not making any gains, but the decline has stalled for now, while safe havens such as Gold have retreated lower.
The European Session
Japan's Abe Tries to Sound Optimistic – The Japanese economy is in a very difficult position. It has weakened considerably in the last two years as the rest of the globe slowed down and in fact, it was weak even when the global economy was recovering fast from the 2009 crisis, but now it has weakened further and will likely fall into recession this year. But, Japanese prime minister, Shinzo Abe, is trying to keep the confidence up, even though we know that the coronavirus will tip the Japanese economy into the abyss. Below are some of his main comments:

Economy remains in moderate recovery
Closely monitoring effects from coronavirus on the economy
Also monitoring market moves with a sense of urgency
Refrain from commenting on market moves
Will continue to closely communicate with IOC, proceed preparations for Olympics

ECB's Gabriel Makhlouf Speaking About Inflation – Last year, the Eurozone economy got pretty close to recession, as it was slowing together with the global economy. Inflation fell below 1%, which got the European Central Bank (ECB) panicked. They cut deposit rates further into negative territory and restarted the QE programme. Inflation improved somewhat, jumping to 1.3%, but core inflation fell to 1.1% again last month. Manufacturing has improved a bit too, but it still remains in contraction. Now that coronavirus has broken out and is also breaking out in Europe, the economy will start weaken again, I suppose. So, the ECB is getting worried again. ECB governing council member, Gabriel Makhlouf made some comments a while ago:

ECB will consider various options for inflation target
ECB must avoid deanchoring of inflation expectations
Inflation range may make ECB policy more credible
There continues to be uncertainty about exactly what "close to, but below" means
Have to consider whether current CPI data is helping to communicate the ECB's objectives in the most effective way

Two More Rate Cuts from the FED in 2020? – World Health Organization has been keeping pretty calm after the outbreak of coronavirus. They continue to remain calm, with only some mild recommendations, which seems like they are doing it on purpose to help spread the virus faster. Is it possible that a mafia organization has hijacked WHO? They made some more mild comments today:

WHO says that they are not planning a 'big announcement' on coronavirus outbreak
Many countries have pandemic plans ready
Some may act on them depending on their situation
But WHO itself does not plan a 'big announcement'
Says countries have to be prepared for the virus that is 'literally knocking at the door'
US Session
ECB's Lagarde Calls for Trust in the Euro – ECB's president Christine Lagarde was speaking in Germany a while ago. She sounded a bit like the Euro is in question now, or is it really?

ECB will reach out to people during strategy review
level of trust in the euro is critically important

Welcomes latest German plans to pause debt brake
 measures intended to support the economy are certainly very welcome particularly under present circumstances

US New Home Sales – Big beat in the New home sales for January in the US. The report was released a while ago, showing a higher revision for December as well, so it's a positive report.

New home sales 764K versus 718K estimate
prior month revised higher to 708 versus 694K previously reported
The gain is at 7.9% versus 3.5% estimate.  Prior month up 2.3% versus -0.4% initially reported
Northeast 44K versus 42K
Midwest 99K versus 76K last month
South 369K versus 386K last month
West 252K versus 204K last month
month supply 5.1 months versus 5.5 months
median price $348,200 versus $324,100 +7.4%
mean price $402,300 versus $373,300. +11.4%
the sales paces the highest since July 2007

Coronavirus Update –


Country,
Other

Total Cases
New
Cases
Total
Deaths
New
Deaths
Total
Recovered
Serious,
Critical
China
78,073
+415
2,715
+52
30,049
8,745
S. Korea
1,261
+284
12
+1
24
18
Diamond Princess
705
+14
4
10
36
Italy
383
+60
12
+1
3
35
Japan
172
+11
2
+1
23
13
Iran
139
+44
19
+3
25
Singapore
93
+2
62
7
Hong Kong
89
+4
2
18
6
USA
57
6
Thailand
40
+3
22
2
Taiwan
32
+1
1
5
1
Bahrain
26
+3
Kuwait
25
+14
Australia
23
+1
15
Malaysia
22
20
Germany
19
+1
15
1
France
17
+3
2
+1
11
1
Vietnam
16
16
U.K.
13
8
U.A.E.
13
3
2
Canada
12
+1
3
Spain
12
+3
2
Macao
10
6
Iraq
5
Oman
4
Philippines
3
1
2
Trades in Sight
The main trend is bearish
The retrace higher is complete on H4 chart
the sentiment remains negative
EUR/CHF reversed below the 100 SMA
EUR/CHF has been bearish for a long time, as the sentiment in financial markets has been mostly negative, due to the trade war between US and China, as well as from the slowing global economy. The CHF has benefited from that as a safe haven, hence the long term bearish trend in this pair. During this time, moving averages, such as the 50 SMA (yellow) and the 100 (green) have been pushing the price lower. When the trend picked up pace, the smaller MAs have provided resistance, when the trend slowed, the 100 SMA has come to rescue.
Yesterday we saw a retrace higher, despite the deterioration in the sentiment and EUR/CHF broke above the 50 SMA on the H4 chart. But, it wasn't enough to push to the 100 SMA. The price reversed after forming an upside-down pin candlestick which is a reversing signal. I opened a sell forex signal yesterday at the 50 SMA, so we are in profit already with this trade now.
In Conclusion
The pace of the spread of Coronavirus was slowing last week, which calmed traders down. But, the jump in new cases over the weekend, especially in Italy, increased fears that the virus might turn into a pandemic in Europe as well, so the sentiment has been negative again this week, although not as bad as in the last two days and markets will likely follow the news in the following session about how coronavirus is progressing.
We have turned bearish in EUR/USD as the bullish pressure fading and the price heading for 1.07 now
1 day ago