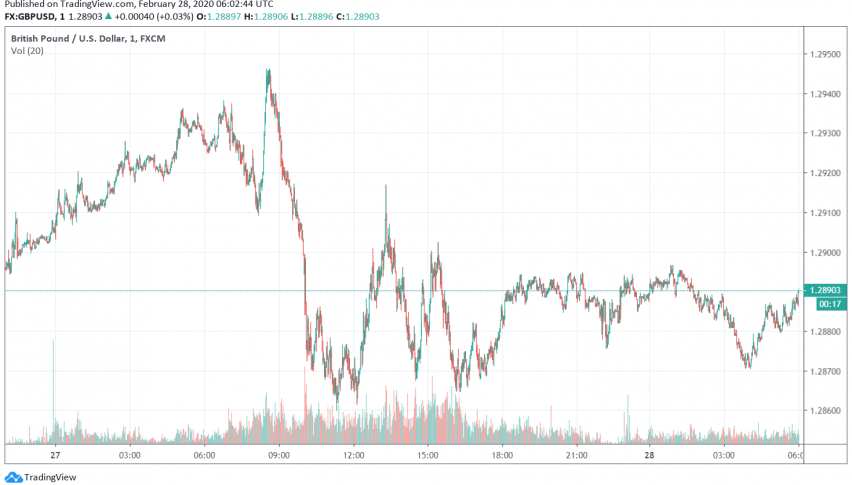 GBP/USD Weakens After UK Threatens to Call Off Trade Talks With the EU
Posted Friday, February 28, 2020 by
Arslan Butt
• 1 min read
The Pound is trading weak against the US dollar on Friday after Britain threatened that it was prepared to walk away from trade negotiations with the EU, raising risks of a possible no-deal Brexit once again. At the time of writing, GBP/USD is trading at around 1.289.
On Thursday, Britain insisted on binding obligations granting it access to EU's financial markets post-Brexit. A failure to get this would spell trouble for London, one of the leading hubs worldwide for the financial services industry. Tensions flared up after senior minister Michael Gove stated that the UK was unwilling to compromise on its soverignty in order to gain a beneficial trade agreement with the EU.
Gove once again reiterated his government's insistence on a hard deadline for the end of the transition period and cautioned that the UK could walk away from trade discussions if a bored outline of a trade deal is not ready by June. The UK has also expressed its willingness to trade with the EU as per WTO rules if both regions are unable to finalize a trade agreement before the end of 2020.
GBP/USD is also trading bearish over worries that the new finance minister Rishi Sunak may not unveil fiscal stimulus measures in his upcoming budget presentation. British Treasury officials have cautioned that the government cannot increase public spending rapidly without making any changes to taxes as the Treasury now permits the government to increase borrowing only for capital investment purposes.