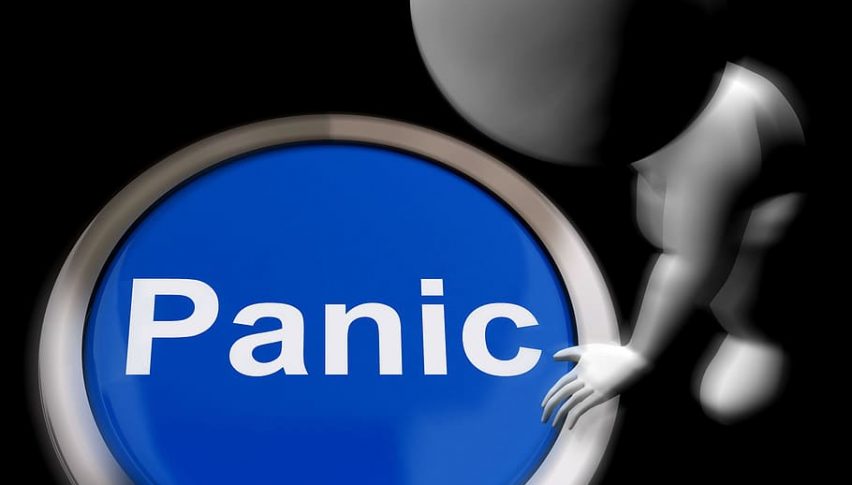 Forex Signals US Session Brief, March 2 – Markets Settle After Weekend Panic on Data From China
Here we are, on a new month for this year, but the problems are the same old ones, a weak global economy and a spreading virus that has scared the hell out of the global population. If not due to the death toll, the impact that it is having in the global economy is surely to be scared about. Over the weekend, we saw the Chinese manufacturing and non-manufacturing PMI indicators dive down to 36.7 and 29.6 points respectively. That set off the panic among economists and central bankers.
That was the deepest dive in both sectors ever recorder anywhere for the PMI indicator. That showed that the effect on the Chinese economy is going to be severe. Chinese government said a while ago that outside of Hubei the situation is OK, but can you trust them? So, this virus might send the Chinese economy in recession and other major economies as well, as it spreads in other parts of the world. Today's manufacturing figures from Europe showed some further improvement during February, but the effect of coronavirus will be felt this month. EUR/USD on the other hand, has been rallying since last Monday for 350 pips as odds of the FED cutting rates this month increase, but the Euro doesn't rally have any reasons to rally.
The European Session
European Final Manufacturing PMI – Manufacturing weakened considerably in the last two years in the Eurozone, as a result of the trade tensions. In the last several months we have seen a slight improvement and today's report showed further improvement, although manufacturing still remains in contraction in Europe, apart form the UK. Below are the final manufacturing numbers for February:

Italy February manufacturing PMI 48.7 vs 49.0 expected
Initial reading for February was 48.9
Switzerland February manufacturing PMI 49.5 vs 48.0 expected
Initial reading for February was 47.8
France February final manufacturing PMI 49.8 vs 49.7 prelim
Germany February final manufacturing PMI 48.0 vs 47.8 prelim
Eurozone February final manufacturing PMI 49.2 vs 49.1 prelim
UK February final manufacturing PMI 51.7 vs 51.9 prelim

Russia Doesn't Want Another Large Oil Cut – OPEC has been trying to convince Russia to cut Oil production again, this time by 1 million barrels/day. But, Russia has been avoiding the subject. Today's comments show that they are avoiding it again now, so they don't really like to cut Oil production further. Russian energy minister Novek made the following comments:

Russia hasn't received any OPEC+ proposal for a 1 million bpd cut
We are focusing on what the technical committee discussed

ECB Remains Ready to Act on Coronavirus – The ECB vice president, Luis de Guindos made a few comments earlier today, showing concern about the effect of coronavirus spread on the Eurozone economy.

Virus adds a new layer to uncertainty to global, euro area growth prospects
If virus spreads more widely, domestic firms could be more directly affected
ECB remains vigilant and will closely monitor all incoming data
ECB stands ready to adjust all its instruments as appropriate, to ensure inflation moves towards its aim in a sustained manner
The front line of the response to coronavirus should be fiscal policy

Trump and Pence Comment on Coronavirus – The concern grows as the virus spreads globally, particularly for the economy. China is in partial lock-down, but if both the US and China would be forced into some semi-lockdown, it would wreak havoc on the global economy. US president Donald Trump and VP Mike Pence made come comments a while ago:

Pence expects many more cases of coronavirus
US is in the process of resolving virus kits issue
Trump tweeted: "I am meeting with the major pharmaceutical companies today at the White House about progress on a vaccine and cure. Progress being made!"
US Session
ECB's Wunsch Worried That V-shape Might Not Happen – The ECB eased the monetary policy back in September, cutting deposit rates to -0.50% from -0.40% and restarted the QE bond purchase programme in November, hoping for a v-shape recovery, after last year's slowdown. But, now they don't sound to confident after the coronavirus. Wunsch made some comments a while ago:

V-shaped recovery 'not the only possible scenario'
Impact of virus can lower ECB's growth projections
ECB doesn't have to act on every negative shock
ECB needs to be very vigilant

Canadian Manufacturing PMI – The manufacturing report from Canada was released a while ago. Manufacturing softned and got close to stagnating in De3cember, but it has improved in the last two months.

Canada February Markit manufacturing PMI 51.8 vs 50.6 prior
Strongest one-month improvement in a year
Highest reading since Feb 2019
January stood at 50.6 points
Employment highest since Nov 2019
New orders 51.7 vs 51.0 prior

US ISM Manufacturing PMI – ISM Manufacturing fell in contraction back in August and remained there until December. But, it missed recession just about, as manufacturing activity returned to growth again in January. US ISM manufacturing report has been released and showing that manufacturing activity has slowed again in January, missing expectations of 50.5 points and slipping to 50.1 instead.

Prior was 50.8
New orders 49.8 vs 51.8 expected
Prior new orders 52.0
Prices paid 45.9 vs 50.5 expected
Prior prices paid 53.3
Employment 46.9 vs 47.5 expected
Prior employment 46.6

Coronavirus Update –


Country,
Other
Total
Cases
New
Cases
Total
Deaths
New
Deaths
Active
Cases
Total
Recovered
Serious,
Critical
China
80,026
+202
2,912
+42
32,313
44,801
7,110
S. Korea
4,335
+599
26
+5
4,279
30
27
Italy
1,704
+3
41
1,580
83
140
Iran
1,501
+523
66
+12
1,144
291
Diamond Princess
705
7
598
100
36
Japan
274
+18
6
226
42
19
Germany
150
+20
134
16
2
France
130
2
116
12
9
Spain
120
+36
118
2
3
Singapore
108
+2
30
78
6
Hong Kong
100
2
62
36
6
USA
88
+13
2
+1
77
9
8
Kuwait
56
+10
56
Bahrain
47
47
Thailand
43
+1
1
12
30
1
Taiwan
40
1
27
12
1
U.K.
40
+4
32
8
Australia
30
+1
1
14
15
1
Malaysia
29
7
22
Canada
24
20
4
Switzerland
24
23
1
Iraq
21
+2
21
U.A.E.
21
16
5
2
Norway
19
19
Netherlands
18
+8
18
1
Vietnam
16
0
16
Austria
15
+1
15
Trades in Sight
The main trend is bearish
The retrace higher is complete on H4 chart
The 20 SMA provided resistance
The sentiment remains negative
The 20 SMA is stopping the climb for AUD/USD
AUD/USD has been bearish for about two years, when the FED was in the middle of a tightening cycle. Although just like in NZD/USD, we saw a retrace higher in the last few months of 2019, as the sentiment improved on prospects of a partial trade deal between US and China. But, the good times ended with the old year and this year the sentiment turned negative right away, as tensions in the Middle East grew. Then came coronavirus, which has turned the sentiment massively bearish and the data released from China over the weekend showed that the economy has fallen deep in contraction due to the shutdown.
This will reduce the demand for raw materials and other goods from Australia, so the AUD should remain bearish. But, the odds of FED cutting interest rates this month have gone up to 100% and the USD has weakened in recent sessions, mainly shown in EUR/USD which has climbed nearly 4 cents since last week. As a result, AUD/USD has retraced higher in the last few sessions, but the retrace seems complete now on the H4 time-frame chart. The price has found resistance at the 20 SMA (grey) which has done this job before and it is also overbought. Buyers seem exhausted now and a morning star candlestick formed below the 20 SMA, which is a reversing signal. We decided to sell the retrace, so now we are short on AUD/USD.
In Conclusion
Stock markets opened with bearish gap lower this morning, after the horrible Chinese data for February, which was released over the weekend. They continued to slide lower for a while, but the decline has stalled for now. Although, I think that the decline will resume again, as coronavirus spreads across the globe.
USD/CAD surged 150 pips higher today as the USD buyers returned, although it's the first trading day of 2023
1 month ago