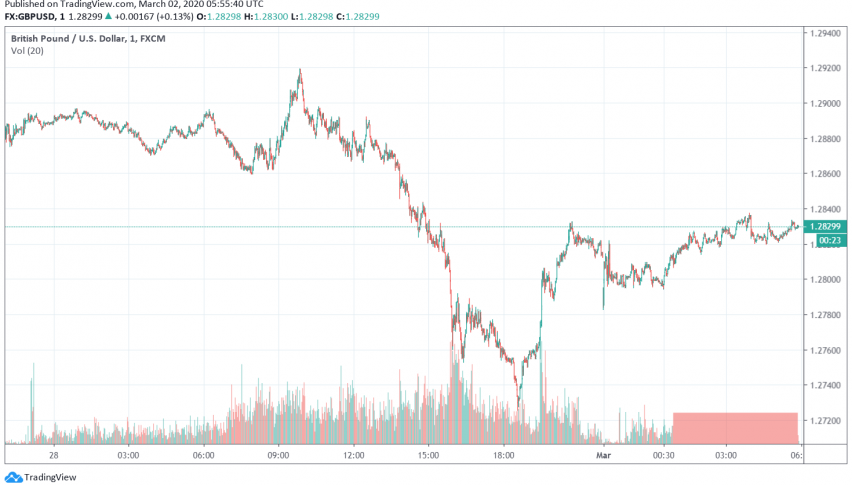 GBP/USD Improves But Still Weak Over Coronavirus, Trade Negotiation Concerns
Posted Monday, March 2, 2020 by
Arslan Butt
• 1 min read
The Pound has recovered slightly after losing almost 1% of its value against the US dollar at the end of the previous week, but worries about post-Brexit trade negotiations between Britain and the EU continue to keep the pair under pressure. At the time of writing, GBP/USD is trading at around 1.282.
Britain's chief negotiator David Frost is set to arrive at Brussels with his team to start off on discussions across nearly all aspects of the trade agreement with the EU. British PM Boris Johnson has insisted that trade discussions must conclude by the end of the transition period within 2020, and rounds of talks could proceed every two to three weeks at least until summer.
Negotiations are expected to prove difficult with both sides digging in their heels. While the EU is insisting that all aspects of Britain-EU relations should be finalized within this short span of time and that any dispute should be referred to the European Court of Justice, Britain has refused to give in to these ideas. Britain, on the other hand, has expressed interest in finalizing a free trade deal like the EU has with Canada or Australia, with disputes to be resolved by other means.
Meanwhile, Britain is also set to start its trade negotiations with the US this week. But PM Boris Johnson has already cautioned that he is set to drive a hard bargain as both countries try to work out a free trade agreement. The US is Britain's second largest trade partner after the EU.