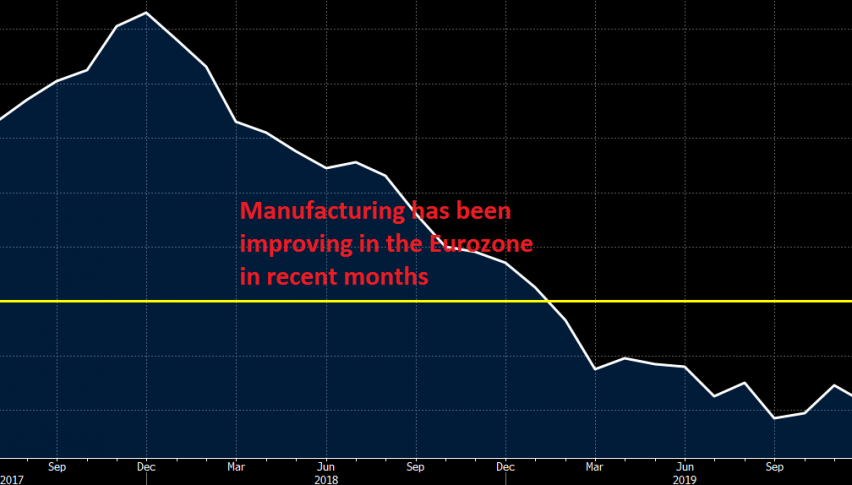 Manufacturing Improved Slightly in February in Europe, But That's Before Coronavirus
Manufacturing weakened considerably in the last two years in the Eurozone, as a result of the trade tensions. In the last several months we have seen a slight improvement and today's report showed further improvement, although manufacturing still remains in contraction in Europe, apart form the UK. Below are the final manufacturing numbers for February:
Italy February manufacturing PMI 48.7 vs 49.0 expected
Initial reading for February was 48.9
Switzerland February manufacturing PMI 49.5 vs 48.0 expected
Initial reading for February was 47.8
France February final manufacturing PMI 49.8 vs 49.7 prelim
Germany February final manufacturing PMI 48.0 vs 47.8 prelim
Eurozone February final manufacturing PMI 49.2 vs 49.1 prelim
UK February final manufacturing PMI 51.7 vs 51.9 prelim
So, the trend looks good, albeit it is too slow. But, this is still before the coronavirus. Life has changed and will likely change further in Europe, as the virus is spreading in the continent.
Over the weekend, we saw Chinese manufacturing and services take a deep dive and fall to the lowest level ever recorded. A similar scenario is expected in Europe, although probably not as severe, but enough to send manufacturing deeper into recession.
GBP/USD is testing the 200 daily SMA for the second time, which held for the second time last Friday
4 weeks ago
USD/CAD surged 150 pips higher today as the USD buyers returned, although it's the first trading day of 2023
3 months ago