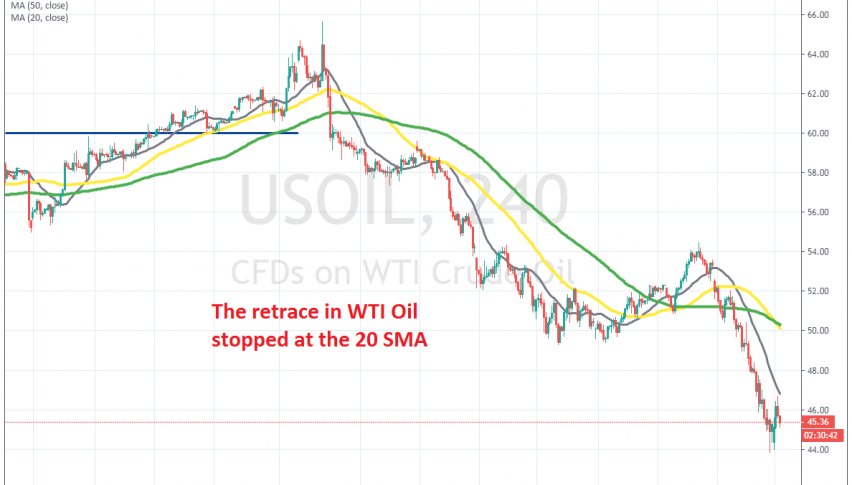 WTI Crude Oil Reverses Down at the 20 SMA, as Russia Doesn't Like Cutting Production
Crude Oil was trading on a bullish trend during December, after OPEC+ decided to cut production by 50k barrels/day. During that time, moving averages were providing resistance on the H4 chart. But, the climb ended after tensions between US and Iran cooled off and in the second week of this year, Crude Oil made a swift reversal.
The coronavirus outbreak has hurt the sentiment in financial markets, which has hurt Crude Oil, keeping it bearish. Now, the global economy is starting to weaken again, as we saw from the Chinese data over the weekend. So, that's another reason for Oil to remain bearish.
Now, moving averages have turned into resistance for WTI Crude Oil, which fell below $44 late last week. This morning, we saw a retrace higher, but the pullback stopped at the 20 SMA (grey) on the H4 chart. Now, the price is reversing down, so it seems like the pullback higher is complete on this time-frame. The reversal came after Russian energy minister nade the following comments:
Russia hasn't received any OPEC+ proposal for a 1 million bpd cut
We are focusing on what the technical committee discussed
OPEC has been trying to convince Russia to cut Oil production again, this time by 1 million barrels/day. But, Russia has been avoiding the subject. Today's comments show that they are avoiding it again now, so they don't really like to cut Oil production further. We missed the chance to go short earlier at the 20 SMA, but will look to sell on another retrace higher.