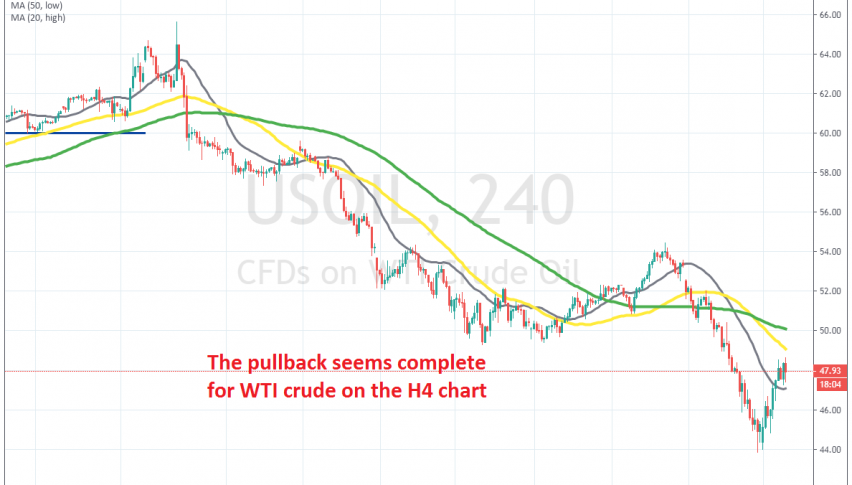 The Retrace Higher Might Be Over for Crude Oil
Crude Oil has had a rally tough time since the second week of this year. The coronavirus outbreak has hurt the sentiment badly in financial markets, especially for energy products such as crude Oil. As a result, US WTI crude has declined from $65.70s to $43.80 last week.
We saw a retrace higher during most of February, as coronavirus was being contained within China. But, the spread in East Asia and turned the panic button on again and crude Oil resumed the bearish trend once again in the last week of February.
The horrible data from China released over the weekend showed that the Chinese economy is having a difficult time and probably it will spread in other countries, as parts of the economy shut down, if the virus turns into a pandemic in Europe and America.
But, there was no follow through on crude Oil and we are seeing another pullback higher this week. OPEC has been trying to cut production by 1 million barrels/day and we heard them repeat that target again yesterday, hence the climb in crude Oil. But, Russia doesn't like another cut, so Saudi Arabia will have to take most of the burden if they want to cut.
Crude Oil is having second thoughts now and buyers seem exhausted. The retrace is also compete on the H4 time-frame chart, so this might be a good opportunity to go short on the US WTI crude. Although, we will be following the price action to see if we can get a trade here.