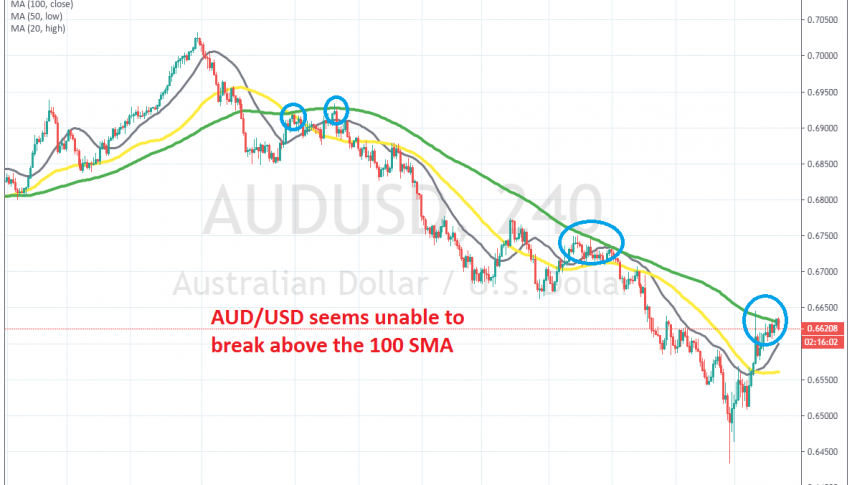 The 100 SMA Still Resisting for AUD/USD
AUD/USD has been bearish since early 2008, when the FED was in the middle of a tightening cycle. Although just like in NZD/USD, we saw a retrace higher in the last few months of 2019, as the sentiment improved on prospects of a partial trade deal between US and China.
But, the good times ended with 2019 and this year the sentiment turned negative right away, as tensions in the Middle East grew. Then came coronavirus, which has turned the sentiment massively bearish, and the data released from China over the weekend showed that the economy has fallen deep into contraction due to the shutdown.
This will reduce the demand for raw materials and other goods from Australia, so the AUD should remain bearish. But, the odds of FED cutting interest rates this month went up to 100% and the USD has weakened in recent sessions, mainly shown in EUR/USD which has climbed nearly 4 cents since last week.
The FED did cut rates by 50 bps earlier this week, sending the USD 70-80 pips lower, but analysts think that they might cut again later this month. Earlier this week, the FED delivered a surprise 50 bps rate cut, which sent this pair 70 pips higher. As a result, AUD/USD has retraced higher in the last few days; but the retrace seems complete now on the H4 time-frame chart.
The price has found resistance at the 100 SMA (green), which has done this job before, and this pair is also overbought. Buyers seem exhausted now and a morning star candlestick has formed below the 100 SMA, which is a reversing signal. We decided to sell the retrace, so now we are short on AUD/USD. The price is reversing down now from that moving average, so hopefully the bearish trend will resume soon.
The US consumer is softening as intertest rates go up, which is a factor for the USD retreat and for the FED to stop hikes
23 hours ago