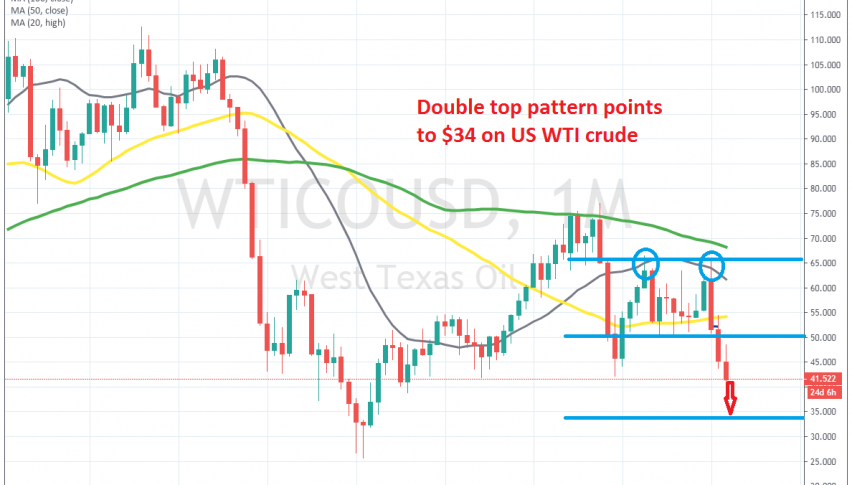 WTI Oil Heads for $34 on This Double Top Pattern, After OPEC Failed to Get Russia on Board
Crude Oil has been bearish since the second week of January. OPEC cut production by 50k barrels/day in December, which gave crude Oil a push higher, followed by tensions between US and Iran, which also helped in the first week of this year. But, tensions didn't materialize into another war in the Middle East and crude Oil reversed back down from around $65.60s.
The global economy has been pretty weak for more than a year, so the demand for energy has been declining, hence the quotas from OPEC+ in December. But the outbreak of coronavirus has turned the situation really gloomy for crude Oil in particular. The global economy might fall in recession as the virus spreads worldwide, so traders are increasingly turning against risk assets, such as crude Oil.
As a result, US Oil has been really bearish since the second week of January, having lost more than $14. form the top in early January, to the bottom. OPEC has been trying to convince Russia to cut production again, this time by a massive 1.5 million barrels/day. But, Russia hasn't been in line with OPEC regarding such a cut in production and yesterday OPEC just gave up, after Russia declined to join in, so the OPEC meeting in Vienna didn't produce an agreement.
That turned WTI crude even more bearish and now the bigger picture looks pretty bad for crude Oil. US WTI crude formed two tops at the resistance around $65-$66. The neckline of the double top pattern, at $50 has also been broken, which validates the pattern.
The distance between the top and the neckline is around $16, so the decline from the neckline at $50 should be around $16 as well, which comes to $34. So, that's the target for sellers on WTI now. We got around 170 pips earlier last month from a long term signal/trade, selling the pullback in Oil and will look for other retraces higher, so we can sell again.