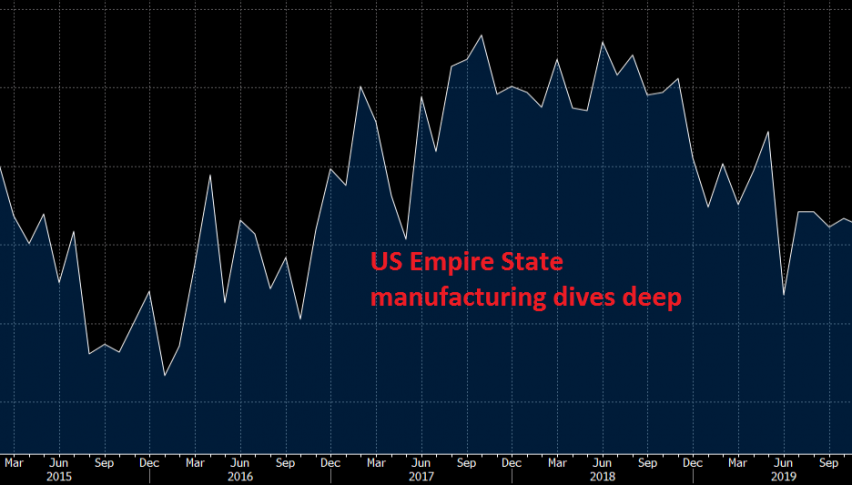 US Manufacturing Dives This Month, as Coronavirus Takes on the US
The coronavirus is damaging the global economy more than the population itself. It almost killed the Chinese economy in the last two months, as manufacturing and services dived into deep contraction, after the shutdown in large parts of the country. China has come out of the abyss now, but the spread of the virus worldwide is killing the global economy.
Europe is almost completely shut, while the US is starting to shut down as well. The Empire State Manufacturing Index report was released a while ago and it looked horrible. Below are the details:
March US Empire Fed -21.5 vs +4.9 expected
The lowest reading since 2009
The sharpest decline on record
February stood at +12.9
New orders -9.3 in March versus 22.1 February
Prices paid +24.5 in March versus 25.0 in February
Employment -1.5 in March versus 6.6 in February
Shipments at -1.7 in March versus 18.9 in February
Average employee workweek -10.6 versus -1.0 in February
Unfilled orders +1.4 versus +4.5 in February
Delivery time +2.2 versus +8.3 in February
inventories +5.8 versus +12.9 in February
Six-month business conditions +1.2 vs +22.9 in February
The headline number is the lowest since the financial crisis in 2009. The coronavirus hasn't really hit the US too hard this month yet, but manufacturing has dived nonetheless. This doesn't even cover what we're seeing now and is hitting more quickly than anticipated. So, things should get worse by next month I assume, considering how China went through this virus.