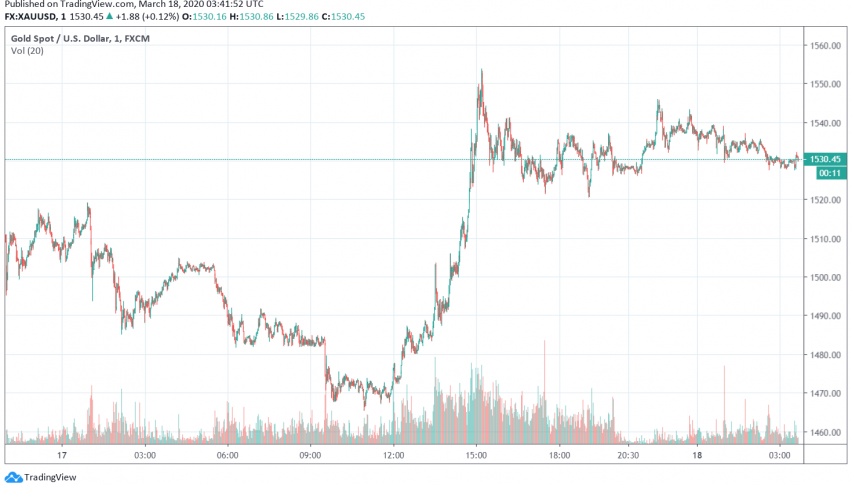 Gold Prices Tick Higher After Fed Announces Liquidity Boosting Measures
Posted Wednesday, March 18, 2020 by
Arslan Butt
• 1 min read
Gold prices resumed their bullish move early on Wednesday over the Fed's additional measures to inject greater liquidity into markets offered some relief about the possibility of the coronavirus pandemic causing a cash crunch and hurting the global economy further. At the time of writing, GOLD is trading at a little above
Escalating worries about the rapid spread of coronavirus cases across the US and the rest of the world had driven concerns of the possibility of a liquidity crunch in financial markets, resulting in severe sell-off impacting the safe haven gold as well. However, gold prices received a boost after the Fed announced that it would restart ways to get credit directly to businesses and households like it had during the 2008-09 financial crisis, helping ease the mood in the markets.
The US government is considering additional stimulus measures worth nearly $1 trillion to offset the economic impact of the pandemic even as Britain unveiled a larger stimulus package as cases continue to rise. Japan's government is also considering additional measures to support its weak economy through the crisis and could unveil its plans soon.
Despite the rise in stimulus efforts by governments and central banks around the world, the safe haven appeal of gold remains high over the increasing likelihood of a recession in the global economy as a result of the pandemic.
The US banking sector is having more troubles than European banks, which should keep the FED dovish, and risk assets bullish
21 hours ago