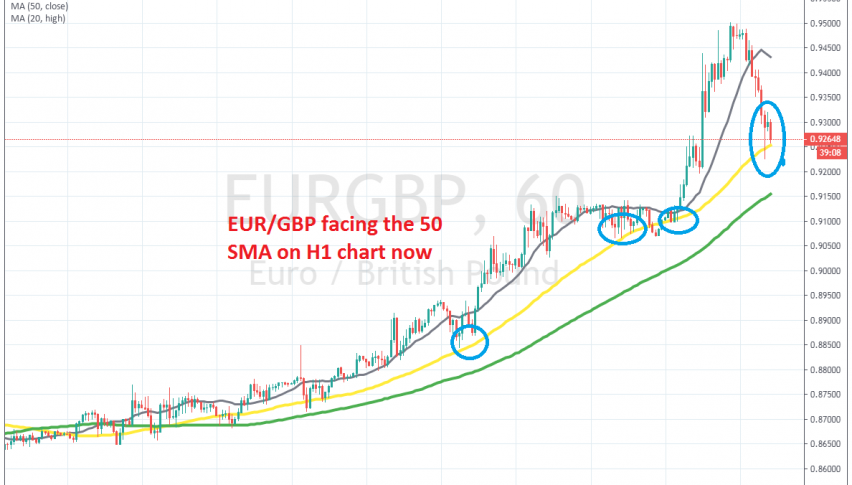 EUR/GBP Retraces Nearly 300 Pips Lower, But Stops at the 50 SMA
EUR/GBP has surged higher this month, gaining around 10 cents since the beginning of the month. The Euro has turned bearish this month as coronavirus spreads n Europe, but the GBP has turned even more bearish. EUR/USD has lost around 7 cents, while GBP/USD has lost around 18 cents, so it's a massive decline.
So, EUR/GBP has been bullish due to this sort of price action and only yesterday this pair climbed around 400 pips, despite the big decline in EUR/USD. On the other hand, GBP/USD lost around 7 cents yesterday. EUR/GBP reached 0.95 yesterday, but it has retraced lower today.
So, EUR/GBP has retraced nearly 300 pips lower today, as the GBP retraces higher. The decline was pretty quick in the European session, but the decline stopped at the 50 SMA (yellow), which was pierced for a while, but the price retreated back up and the H1 candlestick closed above it.
So, that doesn't count as a break. Now the price is heading back down there again, so let's see if the 50 SMA will break. If not, then this might be a good opportunity to go long from here. But, we will wait for a reversing signal above the 50 SMA, such as a doji or pin candlestick, then we will consider going long.