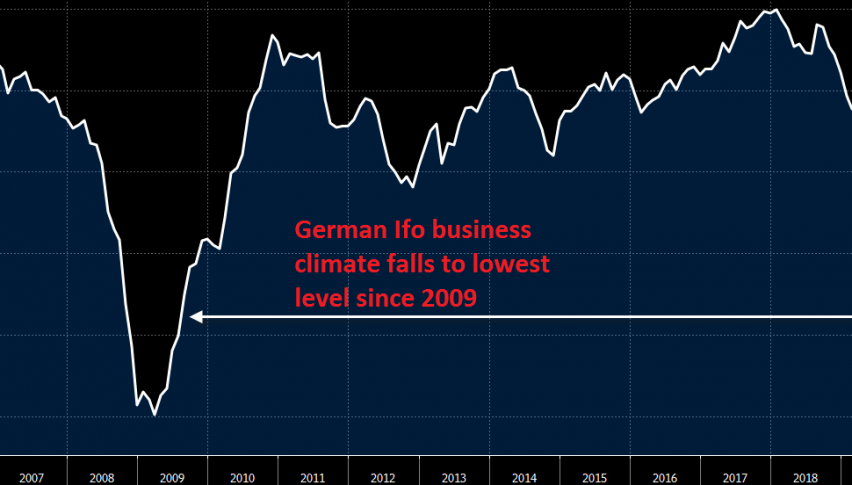 German Ifo Business Climate Falls 10 Points in March
The business climate was weakening last year, due to the trade war and the weakening global economy, bottoming at 94.2 points in August. But, as the rhetoric between US and China softened, the business climate improved, climbing to 96.1 points in February.
Although, with the outbreak of coronavirus in Europe, everyone was expecting the ifo business climate to weaken as well. In the first reading for March, Ifo business climate indicator fell to 87.7 points, while today it was revised even lower. Below is the Ifo report, as well as comments from Ifo economist Wohlrabe:
German Ifo Business Climate
March final Ifo business climate index 86.1 vs 87.7 prelim
Expectations 79.7 vs 82.0 prelim
Current assessment 93.0 vs 93.8 prelim
Comments from Ifo economist, Klaus Wohlrabe
There could be a GDP drop of between 5-20% this year
The degree depends on length of shutdown
We presume that there will be a bad recession for at least two quarters
The proportion of pessimistic companies has risen strongly in recent days
German manufacturing index hit its lowest level since August 2009
Says sentiment has never fallen as strongly as this in the services sector
Food shops and chemists are among the few areas where business climate has risen
So, there will surely be a recession for a couple of quarters, as Wohlrabe confirms, but no one knows how deep it will be or how long it will last. The manufacturing index is at the lowest levels since 2009 and the Ifo indicator is heading there too. This month wasn't that bad, since Germany is the least infected country in the Eurozone, but next month will be nastier.