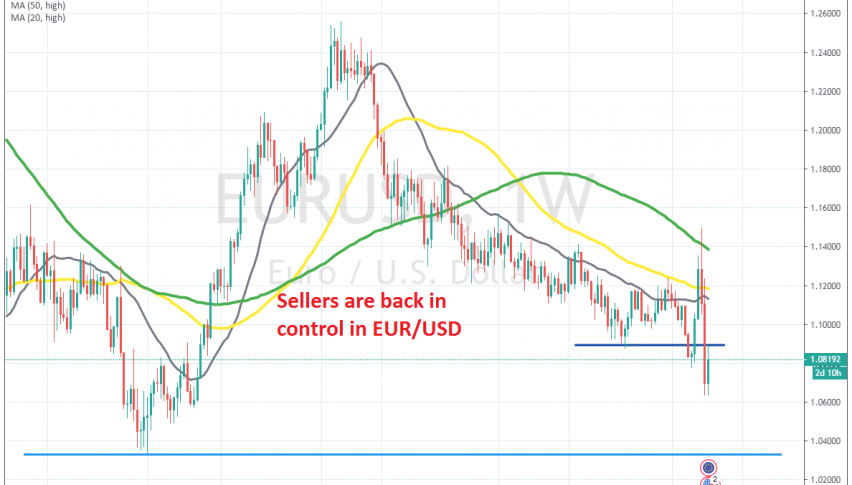 The Dead Cat Bounce in EUR/USD is Over
EUR/USD has been on a bearish trend since early 2018, when the FED was in the middle of a tightening cycle. The trade war between US and China last year hurt the global economy and the manufacturing sector fell into deep contraction in Germany and the Eurozone, which hurt the Euro further, while the USD was holding well.
During this time, EUR/USD fell around 18 cents, with the 20 SMA (grey) pushing the price lower on the weekly chart, as shown above. But we saw a big surge in late February and early March, as coronavirus broke out in Italy. That should have sent the Euro further down, but we saw a massive jump of more than 7 cents.
The price pierced the 100 SMA on this time-frame chart, but it pulled back down before the candlestick closed, so that doesn't count as a break. The reversal was quite brutal and this pair lost around 850 pips in a couple of weeks, as Italy and then Europe went into shutdown.
EUR/USD fell to 1.0630s, making new lows, so the larger downtrend continues. We saw a reversal attempt yesterday, but it ended at the lows from back in June last year. So, I think that the bearish trend will continue further; but we will have to see how coronavirus evolves from here, both in Europe and the US.
The US consumer is softening as intertest rates go up, which is a factor for the USD retreat and for the FED to stop hikes
11 hours ago