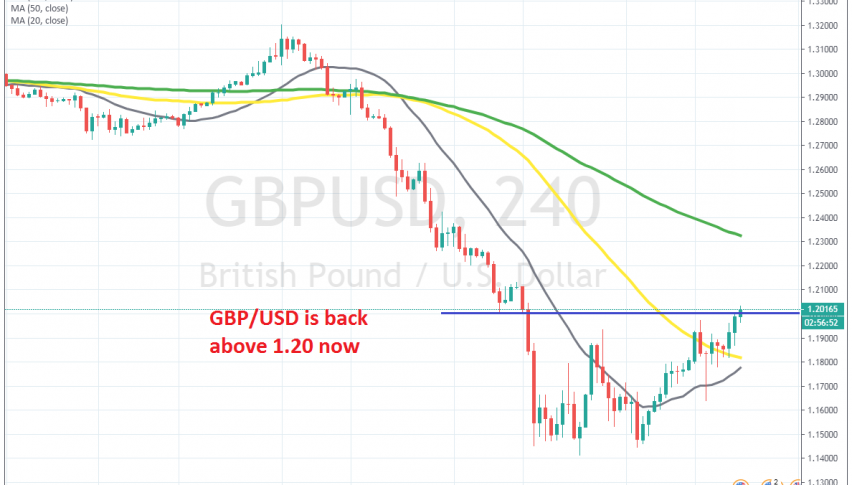 GBP/USD Climbs Above 1.20, As the BOE Remains on Hold
Over the last several weeks, the Bank of England has already cut interest rates from 0.75% to 0.25% and then to 0.10%. They also increased QE by £200 billion, introduced new funding for smaller firms, added repo operations, and cut the counter-cyclical buffer to 0%. That is quite a lot of action.
As a result, the GBP crashed lower, with GBP/USD falling to 1.14. Today, the BOE wasn't expected to do much, and they remained on hold indeed. Below is the report from the BOE meeting today:
ECB Bank rate at 0.10%
Gilts purchase target £645 billion (unchanged)
Corporate bond target £10 billion (unchanged)
Voting 9-0 to keep the bank rate unchanged
Economic consequences of virus developments are becoming more apparent
A very sharp reduction in activity is likely
There is risk of longer-term damage to the economy
Unemployment likely to rise rapidly across a range of economies
If needed, MPC can expand asset purchases further
Inflation likely to fall below 1% in the spring
Inflation will be boosted by significant depreciation of sterling
Economic shock from the virus will prove temporary
That is if job losses and business failures can be minimized
The next plausible step would either to increase the pace of QE or follow the Fed and go nuclear, but for now they judge the situation as to not be there yet. GBP/USD has retraced higher this week, as the USD gives back some of the gains and this pair has now climbed back above 1.20. Will this last? Let's see.