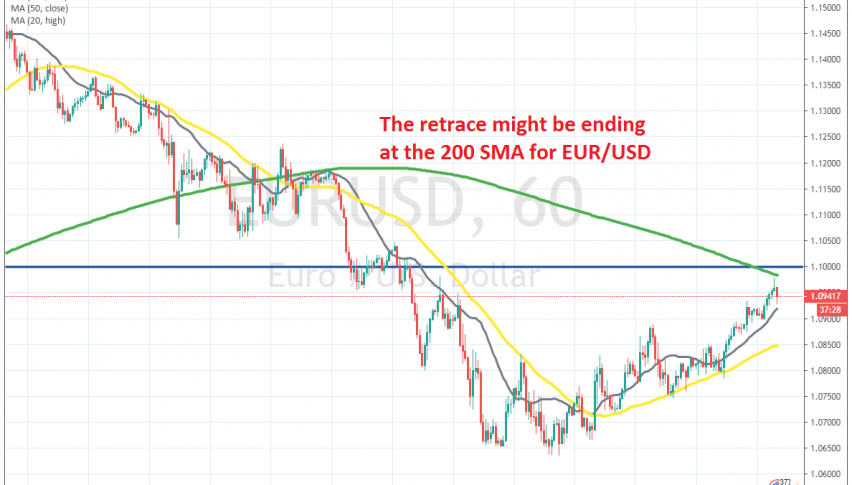 Is the Retrace Over in EUR/USD?
EUR/USD tumbled lower this month as the market turned into the USD as a global reserve currency. This pair fell from 1.15 to 1.0650s, which means around 850 pips in a couple of weeks , but the decline was even larger in other pairs, such as in GBP/USD .
Although, the decline stopped on Friday last week and this week we are seeing EUR/USD retrace higher. You could argue that this might be a trend reversal, but I doubt it. Yes, the US Senate just passed a $2 trillion bill today to help the economy, which means tons of USD flowing into markets.
So, that's having some negative impact on the USD, but that's what everyone is doing. European governments as well as the ECB are throwing the kitchen sink at the economy. So, EUR/USD has been on a bullish trend this week and it climbed to 1.0980 earlier today.
The 50 SMA (yellow) has been providing support on the H1 chart during pullbacks, pushing the price higher. But, the retrace might be over now; the 200 SMA (green) provided resistance in the first attempt and the 1.10 level is a big important one,which should offer some decent resistance.
On the textbook, this retrace to 1.10 is a good opportunity to go short, since the larger trend is bearish; but these are not normal times, so it's a bit tricky trading anything right now. But, we will follow the price action to see if we can open a long term sell forex signal.
Risk assets tumbled lower this week, as bank problems escalate, although there was a slight improvement toward the end of the week
2 days ago