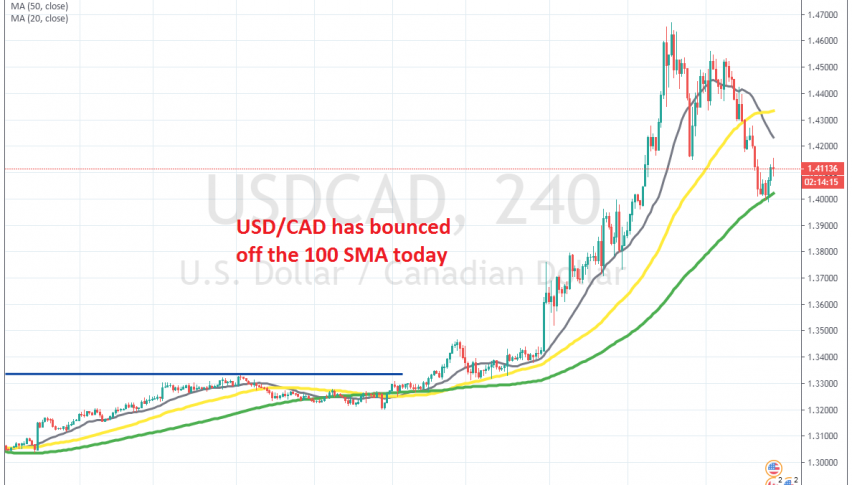 USD/CAD Bounces Off the 100 SMA, After the BOC Cuts Rates Again
The Canadian Dollar has been on a steep bearish trend, with USD/CAD surging nearly 15 cents in two weeks, from around 1.32 to 1.47. There have been a number of reasons for this, the most obvious being the crash in crude Oil prices, from around $50 a month ago, to $20, where it is headed again now.
The Bank of Canada was the first to cut rates by 50 bps in the West due to coronavirus, and after today's third cut, they have brought interest rates to 0.25% from 1.75% at the beginning of the month.Besides that, the CAD has also declined as a risk currency and on top of that, the USD benefited in the last two weeks as a global reserve currency.
So, this pair surged nearly 15 cents higher this month, but it has retraced 7 cents lower this week, as the USD also retraced down, after being rally bullish for two weeks. But, the retrace might have come to and end now. The 100 SMA (green) held well as support in the first attempt and now USD/CAD has bounced more than a cent higher.
I think that the retrace in this pair is over now, especially after the bounce when the USD is declining against other currencies. We might decide to go long if the price retreats down  the the 100 SMA again. But we will have to wait and see if the 100 SMA will hold again. if we get a bullish reversing signal down there, then we're on.